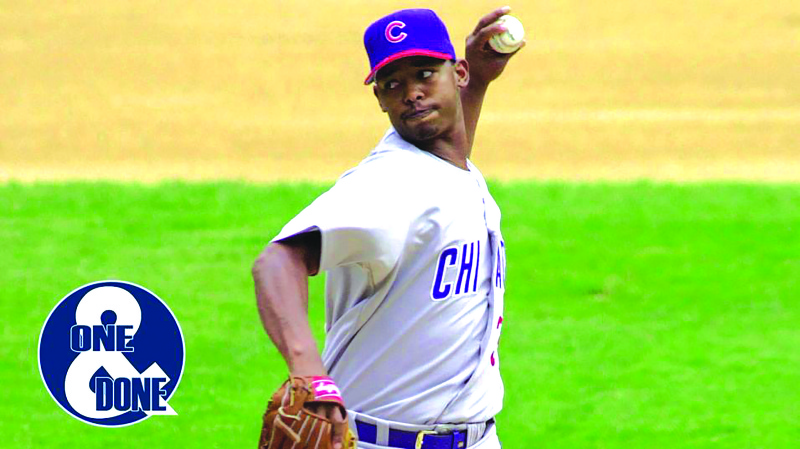 By SAM GARDNER
FOX Sports
In the world of sports, athletes often dedicate their entire lives to reaching the pinnacle of their profession, but for many, life at the top can be short-lived. Sometimes all a player gets to experience at the highest level is one minute on the court, one trip to the plate, one shot on goal or one checkered flag, but more often than not, that fleeting moment in the spotlight is a story all its own. This is One and Done, a FOX Sports series profiling athletes, their paths to success and the stories behind some of sports' most ephemeral brushes with glory.
It would be easy to scan Danny Young's career stat line and write the former Cubs lefty off as a bust, but behind the one-time 83rd rounder's 0-1 record and 21.00 major-league ERA, there's a story of commitment, perseverance and a passion for the game that few to pick up a baseball have shown.
A native of Woodbury, Tenn., a three-stoplight burg about an hour outside Nashville, Young always knew he had talent. That much was abundantly clear. He was tall and strong and could throw a baseball harder than anyone else in town, and it wasn't at all uncommon to see him strike out a dozen or more batters in a game. In some ways, he was David Price before David Price or -- "the black Randy Johnson," as Young jokingly referred to himself in a recent interview with FOX Sports.
But to call Young a baseball player, at that time, was a bit of a misnomer, in part because Young, for all his talent, didn't really know the game he was so clearly born to play.
"I played tee-ball, played Babe Ruth, played Dixie Youth Baseball and high school, but there was no real coaching," Young said. "And for the guys that were (coaches), that was no fault of their own. We hauled hay, we fished, we did whatever we did, and then we went out on the field and had fun. We had teams, but it wasn't competitive. I mean, I ended up being a right-handed hitter because none of the coaches knew how to teach me how to hit left-handed."
Still, Young's strong arm alone was good enough to catch the attention of the Houston Astros, who selected him out of Cannon County High School in the 83rd round of the 1990 draft. Though Young admits he never envisioned a future in the majors, he figured pro baseball was too good of an opportunity to pass up. So after a brief stop at Aquinas College in Nashville, Young hopped on a plane for the first time in his life and reported to rookie ball in Kissimmee, Fla.
Once there, Young realized how much he had to learn.
"One of my first coaches told me, 'Hey, you throw hard, but at this level, everybody is as good as you are, if not better,'" Young recalled. "But they didn't really understand that I had no idea about baseball in general, and I was just learning as I went along. ... I didn't even know how to pick people off at first base. And being left handed, that's unheard of. So I had to learn by failing."
That first year with the Astros' rookie-league affiliate, Young made 13 appearances and finished with a 7.99 ERA. While his power stuff could at times be unhittable -- he struck out 41 batters in 32 2/3 innings -- he struggled with control, his 39 walks inflating his WHIP up to 2.173 for the season.
The following year, playing alongside an 18-year-old Bobby Abreu at Class-A Asheville, Young got his ERA under control but still walked more batters than he struck out. Then 1993 saw regression, with Young's ERA ballooning over 6.00 over a career-high 142 2/3 innings. There was a growing sense that Young might not be able to learn the things he'd never been taught, and that he'd never become more than a thrower on the mound.
"I struggled (in Asheville) just because it was a new process for me," Young said. "I still had this fear of making a mistake and the coaches just thought, at the time, 'This guy is just having a hard time picking this stuff up.'"
As a last-ditch attempt to harness Young's talent, the Astros brought in Sandy Koufax to spring training in 1994. There, the legendary southpaw worked with Young and 1993 first-round pick Billy Wagner. While the team apparently did not see the development they'd hoped for from Young, he says the experience was invaluable.
"At first I didn't even know who this guy was," Young said, underscoring how much he had to learn not only about the game's minutiae, but its history. "Then I come to find out a couple years later, and people are looking at me like, 'Dude do you know who you were with?' I just didn't know baseball, but they didn't know that I didn't know baseball. I just went out there and pitched.
Young learned from one of the best in Sandy Koufax and still has an autographed baseball to show for it.
Courtesy: Danny Young
"But it was overwhelmingly mind-blowing, the things that he knew about the directional part of pitching that I didn't really grasp at first," Young added of Koufax. "And as I went along, it got better. I was a late bloomer, so I didn't really understand the concepts that he was teaching me, but he taught me to find a comfort zone and how to tune out the crowd and what's going on around me."
That April, the Astros released Young, but the Pirates signed him almost immediately. A change in scenery did not mean a change in fortunes, however, as Young toiled away with Pittsburgh's low-level farm teams. Young amassed a 5.45 ERA in 206 1/3 innings during the next four seasons spent at A-ball and high-A, but where others might have quit, perhaps convinced that pro baseball wasn't for them, Young kept at it because he saw no reason not to.
"I just loved it, and being where I was from, I was just blessed to be on the field learning and truly taking it in," Young said. "I was in a situation where it was like, 'Hey, this is fun.' I didn't really look at the numbers. People around me were looking at me like, 'This guy's crazy. He's struggling.' And people would come to me and say, 'If you would do this, if you would do that,' but I truly didn't understand what 'this' and 'that' were."
Clearly, the Pirates saw something in Young, as well, or else they wouldn't have kept him around. For years the club tried to crack the code on one of their most mystifying prospects.
"There was always a glimmer of what I could really do and they'd be like, 'Oh my God, this guy,' but then there'd be times when I'd go out there and I just could not get out of an inning," Young said. "It was kind of a mind thing that I had to overcome, and over time I started getting better. It was a long process, though. I tooled around for eight years, but in those eight years I learned so much.
"It was truly a trial-and-error process for me," he continued. "I threw underhand, three-quarter, over-the-top. I mean, I threw from six o'clock sometimes, just to try it, and I was still throwing 92, and they were just blown away."
But it wasn't until the Cubs picked up Young in the 1997 Rule 5 draft that Young's talent began to manifest itself in the form of on-field success.
"The first guy I met was Sandy Alomar Sr., and he changed my life," Young said of his introduction to his third pro franchise. "He instilled in me that, 'You are one of us.' It wasn't really that I didn't feel that way (in Pittsburgh or Houston), and when I was there, I put on the jersey just like everyone else. But I didn't know what everybody knew.
"(Alomar) took the time to explain things to me in terms of, 'This is what you do, and this is how you do it, and this is what's going to go on, and this may be your last opportunity.' I got to be a lot more cognizant of the situation. He said, 'You could be throwing baseballs or pumping gas,' and I took it personally, but no one ever explained it to me. I was like an experiment. I was a diamond in the rough, and he helped me discover myself. So once I got off the plane with him and I was in Daytona (Fla.), it was time to get it done."
That first year with the Cubs, his eighth as a pro, Young quickly earned his first promotion to Double-A and spent most of the season with the team's affiliate in Jackson, Tenn., 175 miles from his hometown. By the end of the year, Young had made two appearances at Triple-A Iowa. He'd also started to emphasize his workout regimen, and in 1999, he had his best minor-league season, going 3-5 with a 3.28 ERA in 60 1/3 innings out of the bullpen, his WHIP at a career-low 1.425.
"I was pushed until I puked," Young said. "I was throwing bullpens at 90 feet, and I did that three times a week. So once I got on the mound, the mound felt like it was 20 feet. ... Sometimes I was unhittable. There were times that I would go out there and people would just look at three pitches. I was a force to be reckoned with."
Then in 2000, in a stunning turn of events, Young, a pitcher who 10 years earlier entered the minors with no idea how to throw over to first, made the Cubs' Opening Day roster.
"I was elated," Young said. "It was overwhelming to have Mark Grace come to me and say, 'Come on, man, you're one of us,' or to have Kerry (Wood) telling me, 'Where have you been?' I just wanted to ride this ride until it was over, and I always reverted back to Sandy Alomar Sr. because he was there too (as the Cubs' first-base coach). He'd always told me, 'Youngy, just keep going. Just keep going, no matter what. You're doing it.'"
It was fitting, if nothing else, that Young -- who had never been on a plane before he left for rookie league in 1991 -- opened his major-league career in Japan, where the Cubs opened the 2000 regular season in Tokyo against the Mets. Unfortunately, Young's first taste of the big leagues ended in disaster after a decade in pursuit of the dream.
Before Young took the mound in the 11th inning of Chicago's second game of the season, he'd begun to experience shoulder soreness -- Young figured it may have been a result of the heavy spring workload that earned him his roster spot -- but after a journey like his, there was no way a little pain was going to keep him from pitching.
After retiring Robin Ventura and Derek Bell to start the inning, Young gave up a single to Todd Zeile. Then during a walk to the next batter, Rey Ordonez, Young began to worry about his arm.
"I happened to look up at the scoreboard and I knew that I hadn't thrown a breaking ball and it said 87 (miles per hour) and I was throwing as hard as I could throw," said Young, who'd been known to stay in the high 90s when he was at his best. "They called a pickoff play to first base and I bounced it to first base, and Mark Grace called timeout and he said, 'Hey man, what's going on?' I told him I thought there was something wrong with my arm, but I told him I could make it, and I did what I could."
The next batter, Melvin Mora, also drew a walk to load the bases, and after throwing a first-pitch ball to pinch hitter Benny Agbayani, Young's nightmare came to fruition as Agbayani put Young's second offering over the Tokyo Dome's center-field fence. Following the homer, which gave New York a 5-1 lead, Young allowed a double to Jay Payton before finally retiring the side on an Edgardo Alfonzo flyout, but in the immediate aftermath, Young says he remained surprisingly cool.
"Even though I gave up a grand slam, I still looked around and it's like, 'That's Mark Grace right there. I've got Sammy Sosa in the outfield,'" Young said. "They patted me on the back and let me know it was going to be all right. I had a lot of the guys come to me and say, 'Welcome to the big leagues.' They were like, 'Things like this happen.'
"I should have gotten out of the inning," he added. "It was just nerves and knowing within myself that something was wrong."
Unfortunately, Young never truly got a chance at redemption, or to live out his major-league dream.
After the team returned stateside, Young appeared in all three games of the Cubs' first series back against the Cardinals. He walked two batters in two-thirds of an inning in his next appearance but did not allow a run, then gave up a double to Fernando Tatis two nights later, but again escaped the inning unscathed. Then in his final outing, Young loaded the bases with a single and two walks, earning him a quick hook from manager Don Baylor. All three runs went on to score.
Young flew to Cincinnati with the team that night but was sent to Triple-A the next day. Over the next month, Young continued to struggle there until he finally came clean about his shoulder. It turned out to be a torn rotator cuff and major surgery followed.
"It wasn't anybody's fault," Young says now. "It was just one of those deals of me being bull-headed, pretty much, and wanting to stay there and trying to work through it."
Over the next five years, Young underwent four more surgeries on his shoulder. He never played competitively again after the 2000 season and finally retired for good in 2006, following a disappointing tryout with the St. Louis Cardinals. These days, he's back in Tennessee, and while he's involved in the community, coaching and teaching the game to kids, he tends not to watch it on TV too often. Always a competitor, the wound is still a bit too fresh, even after a decade away from the game.
"It hurts to watch it when you know you were the black Randy Johnson," Young said with a hearty laugh. "But I'm very grateful to my town where I'm from, to Houston for drafting me. They gave me an opportunity to play. Pittsburgh gave me an opportunity. And along the way I met fabulous baseball people."
While Young admits he sometimes wonders whether things might have turned out differently had he been raised in an area that had the opportunities available in more baseball-minded cities -- if he'd at least known the basics before he was a pro -- he knows having made it to the majors at all as an 83rd-rounder with no pickoff move isn't such a bad legacy to leave.
"If I was a first-rounder, I might not have made it because I had a thirst and a hunger to make it because of where I was drafted," Young said. "If they'd have set a million dollars down in my hand at that time, there's no telling where I would have ended up.
"So maybe that was just meant to be my turn," Young added of his brief stint in the majors. "I know I could have done better if I'd been healthy, but the opportunity that I got was one I was blessed to have, and now I can give people around here a sense of, 'Hey, if I can make it, you can make it.'"
You can follow Sam Gardner on Twitter or email him at samgardnerfox@gmail.com.