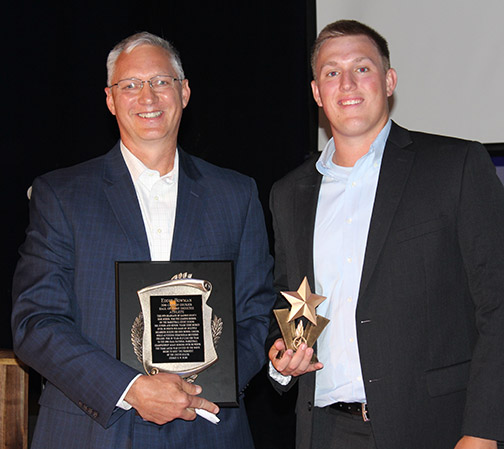 DAVID HUNTER
Courier Sports Writer
A member of the 2016 Hall of Fame Eddie Bowman showed during his legendary basketball career, age is only a number as he helped win a collegiate championship at a time where most men are starting a family and not playing basketball. He knew how to put the ball in the basket a lot.

Bowman played high school basketball in Cannon County from 1976-1979 where he set several scoring records which still stands almost 40 years later today. As a junior and senior, he hit the over 50 point mark on two separate occasions.

It is an amazing stat, because two years earlier as a freshman he did not even make the squad since he was only five feet, two inches tall. However, he hit a growth spurt, and as they say the rest is history.

"You have to give a lot of credit to the head coach for preparing us for the season and individual games," Bowman said. "I was just a country boy and I loved to play the game. My coach installed in me was to play the game with passion, and he also challenged me."

Another reason why he was successful in high school was at the time, they were a Class A school. However, they played the bigger schools in the higher classifications, and the competition made them a better team and Bowman a better player.

"We were usually outsized and outmanned against the bigger schools, but he always told me we will see how you stack up against them," Bowman said. "The game came, and my goal was to outscore, outrebound, and outplay the other team's best player, while holding them down and keeping them from scoring or rebounding. He just challenged me, and he did it for everybody. We never played like we were a single A school."

Injuries hampered his college career early on, but at the age of 25 Bowman received a second chance in basketball. He made the most of it and then some, which included a chance meeting with the leader of the free world.

In 1987, Bowman was playing in a local men's tournament, and his play caught the attention of Motlow Community College. They decided to give him a chance at college basketball that he never had after his high school career was over seven years earlier.

Two years later, he transferred Birmingham Southern, which was a NAIA powerhouse in basketball. By the time, he was 29 and a senior in 1990, his college basketball career was finally coming to an end.

However, he received his one shining moment that season as he played sixth man to the NAIA national champions. The team received a lot of media attention as that NAIA title game was televised by a young 24-hour sports network, ESPN. Also, with the win, BSC got to visit with the 41st President of the United States, George H.W. Bush.

"We knew we were playing on ESPN but we were focused on winning the game," Bowman said of the experience. "We handled it pretty well, and the coolest thing was after winning it, we got to meet President Bush. That was pretty awe aspiring."

It was the perfect way to end a unique basketball career, which got a late start, but the end of it was pretty special for Bowman.

"It made me appreciate it more, because I had some failures along the way, and I was fortunate enough to have a second chance," Bowman said. "It was a really good second chance. I really appreciated it and I worked hard, both on the court and in the classroom. I tried to be a good leader. Obsoletely, because of my age the coaching staff and players looked at me as a leader. I tried to be a good role model and do things right. I tried to be a good example by putting my time and effort. We were a very mature team and we did not rattle easy in a hostile environment. The fans were pretty rough, but it did not bother us as much. It carried us to the conference tournament and the national tournament. We just played basketball like we were trained and expected to."