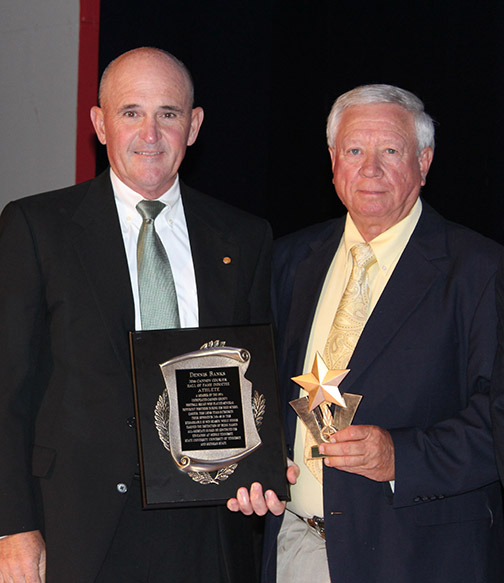 DAVID HUNTER
Courier Sports Writer
The Cannon Courier Hall of Fame Class 2016 welcomes another member of one of the best football teams in Cannon County history to the club, Dennis Banks. He played on the 1974 undefeated football team for Woodbury High, which was one of the most dominant teams in school history.

"I am certainly honored," Banks said of his induction in May. "Anyone is honored when people want to recognize them for something that they had a part in a number of years ago."

Growing up in Cannon County, Banks wanted to make a difference on the football field and in the classroom, so he would stare at the pictures of the former football players at the old high school. He played at Woodbury High from 1972-1975, which had its share of ups and downs during his high school career, but the best was yet to come.

He played several positions during his high school football career, including wide receiver as a freshman, quarterback as a sophomore, fullback as a junior, and offensive guard and backup signal caller as senior.

The 1972 team only won one game against a team from Alabama, but the Lions used the poor record as motivation to improve and make history in the future. The following year, they qualified for the postseason with a 7-3 record. However, the 1974 team made history in many ways.

The Lions went 10-0, including outscoring their opponents 245 to 58 during the season. However, the magical season came to an end in the opening round of the playoffs against the eventual state champion, Brentwood Academy. Remember, back then everybody played in the same postseason in the different classes, regardless if they were a public or private school.

"I think it is particularly satisfying for me and some of the other guys to go from winning one game to winning all of them in a short period of time," Banks said. "It takes a whole lot more than running fast, catching balls. It takes a group of players bonding together and believing in each other. It makes it memorial and special. I do not care if you are in bakery or the auto industry, a group of people around you that can trust and support and believes in you is just pretty magical."

Even through, the Lions did not get the storybook ending, they sure did get the love and attention from the area. It is something Banks remembers fondly to this day.

"It was really exciting," Banks said. "Any sports team in the South, I think the football team, and in Cannon County the girls basketball team. The football that has a winning record and an undefeated season in the south, the community really gets around it. You got your letter jacket on in high school, and everybody knows you. People wave all of the time, and it was a bit like the movie, Hoosiers. The town during the undefeated streak when things were going well. It just propped up the whole community. The football players were treated like kings.

However, the undefeated season, Banks was done with football, because he did not get a college scholarship from a big time program. So, he turned his attention to the classroom, especially in agriculture.

Besides the success on the football field, Banks also received the Four Square medal, an agriculture scholarship, and was named class president during his time at Woodbury High. Banks remembered a heart to heart talk his Ag teacher had with him after life after football, and he made the most of it.

He received degrees from MTSU, UT and Michigan State in animal science and animal genetics and secondary education. He later was a professor at Michigan State for many years before retiring recently, and he now lives in Franklin.

It had been almost 40 years since Banks returned to Cannon County for the Hall of Fame ceremony, but he remembers his time here like it was yesterday. He was excited to return home for a special honor.

"It is going to be nice for me, because I had been away for so long," Banks said. "I have not seen a whole lot of people in over 36 years. In order to tell stories and reconnect, I want to make sure I connect with those people, and I thank and recognize those individuals that were very important for my life and career. I learned a whole lot of things from those people at that time in my life that helped me accomplish the things I have."