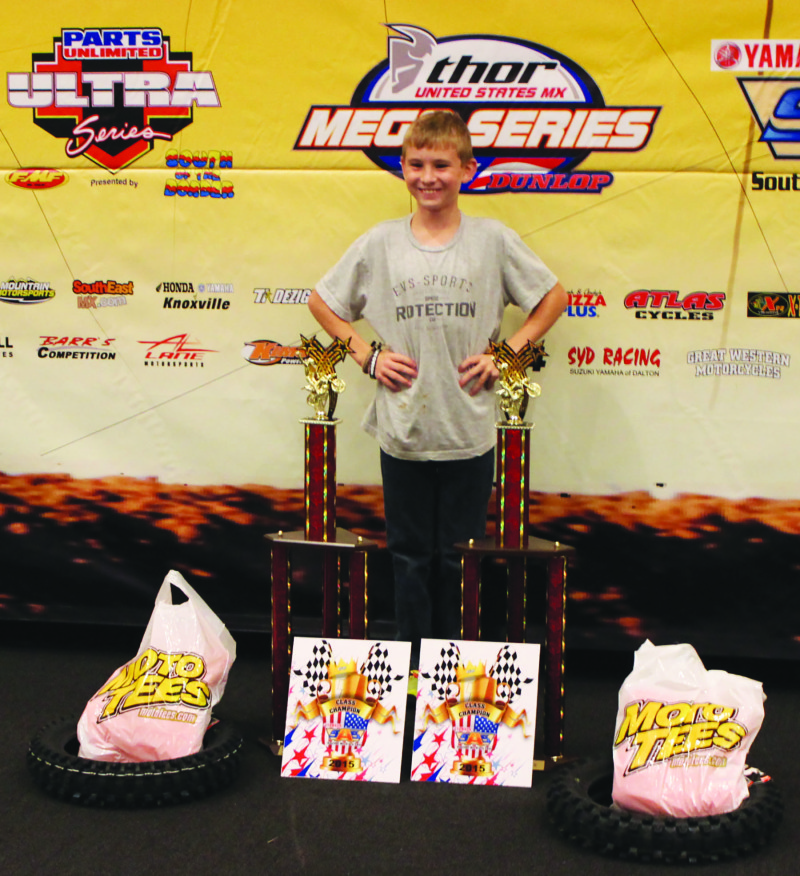 By DAVID HUNTER
There're a lot of talented athletes in Cannon County, mostly in the traditional sports. However, you should meet a fourth grader at Westside who is getting it done on the track and in the classroom. During the summer months, I had the chance to meet Spencer Chatwood in the middle of the motocross season.
Now, with his season completed, Chatwood has made this community proud of him. During the motocross season, he won three titles, and finished runner-up in a fourth racing division. He also took home first-place trophies in two of the biggest motocross events in the region.
His season ended with two titles from the Southern All-Stars Series (65cc 7-9 and 65cc 7-11 unlimited) to go along with a title and runner-up finish in the Big Show Series (65cc 7-9 and 65cc 7-11). Chatwood also rang up some big race wins during the season, including four wins at the Tennessee-Kentucky Border Wars and a win at the Alabama State Championships during the summer.
It's not just the wins on the track which makes this racer special. Instead it's the humble way he carries himself both on and off of it. You see, his biggest supporter and father, Alan, makes sure he stays grounded even with all of the success on the track. For example, when he gets home from school, Alan makes sure Spencer does his homework and chores, and only after those are complete is he allowed to go riding on the track at his house. At Westside, he was given a TCAP award a few days ago.
I've followed dirt bike racing for a long time, including being a subscriber to the premier magazine on the sport, Racer X. I've also read too many stories about parents pushing their kids too far hoping they would become the next superstar in the sport. I've also covered Arenacross races at MTSU's Miller Coliseum during the winter months.
However, the Chatwoods do it the right way and are very supportive of Spencer. They don't put abnormal pressure on him to succeed. Spencer races because he wants to, not because he's forced to. His favorite rider, Ryan Villopoto, just called it a career this year. However, Villopoto did it right, and Chatwood learned a lot from him.
His sponsors include O'Neal Racing, Dunlop, Factory Backing, Lucas Oil, CCR Racing, and he is one of 20 special ambassadors across the nation for EVS.