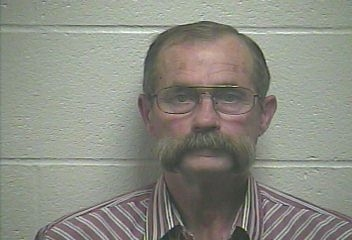 A Cannon County man was arrested last week and charged with the premeditated murder of Joleen Abernathy Ingram that occurred nearly 17 years ago.
Giles County Sheriff's Department investigators, in conjunction with the Cannon County Sheriff's Department, executed a search warrant at the home of David Arnold Johnson of Auburntown March 16.
Johnson, 66, was taken into custody and charged with first-degree murder for the 2001 death of 51-year-old Joleen Abernathy Ingram.
GCSD has worked on this case since 2001 and recently discovered some new information that led Investigator Timmy Scott to take the case to a Giles County Grand Jury and subsequently indict Johnson for the murder.
"We inherited this case when we came into office," Giles County Sheriff Kyle Helton said. "At the time, Investigator Mike Chapman was leading the case, and the TBI and FBI were involved. Over the years we had made some progress, but were not where we needed to be. Investigator Timmy Scott has been working hard and put in a lot of hours on this case over the past few years. And in February, we had some new evidence come up that gave us enough proof to go to the grand jury and bring forth an indictment against Mr. Johnson."
Helton said there is no question that Ingram was murdered and Johnson has been their prime suspect for several years.
According to information from the PULASKI CITIZEN archives, Ingram was reported missing July 1, 2001, from her Shannon Creek Road residence by her lawn caretaker. Neighbors discovered a body July 4, 2001, later identified as Ingram's, approximately five miles from her home along Little Texas Road.
Reports from that time state, "Her body was discovered by a passerby who observed vultures circling the vicinity to the left of the gate, one of many entrances into land harvested by Champion Paper Company."
At the time of her disappearance there was no indication of a struggle or a planned absence from her home. Authorities noted that her purse, keys and vehicle were still at the residence.
Initially, several potential witnesses were questioned and the preliminary autopsy report indicated Ingram did not die of natural causes.
Helton said he knows this will not bring Ingram back but may bring some comfort to her family and friends to know GCSD has developed probable cause and charged the person responsible for her death.
"We work as hard as we can on these cold cases," Helton said. "We don't ever forget about them nor the families that have been affected. Our investigators put a lot of hours into these cases and do a lot of things -- like re-interviewing witnesses and suspects -- behind the scenes to solve them that the public never sees. We do all we can to get these cases solved."
Johnson remains in the Giles County Jail with bond set at $750,000 and is set to appear in court March 26.
Reprinted with permission courtesy of the Pulaski Citizen.