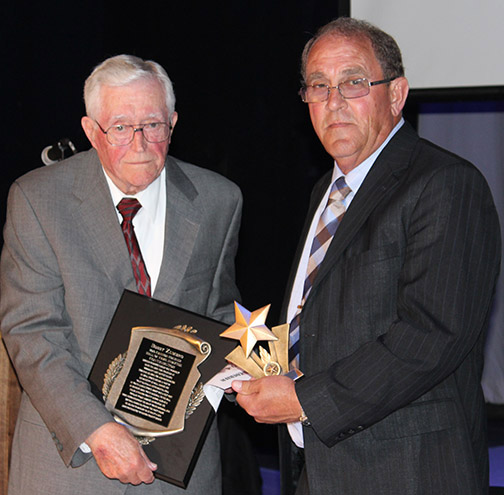 DAVID HUNTER
Courier Sports Writer
Psalm 127:3 states, "Behold children are a gift of the Lord. The fruit of the womb is a reward."
Bobby Zumbro was not a famous athlete in Cannon County like most of the Cannon Courier Hall of Famers, but he played a bigger role in the area as one of the founders of the local youth sports programs. He was also a long time pastor at First Baptist Church in Woodbury during the seventies and eighties.

During his time in Cannon County, he helped start the youth baseball, basketball and football programs in the area. All he wanted to do is give the kids a place and opportunity to learn and play sports all throughout the year. He also had a golden voice as he was known for his public address announcing around the area.

"That was certainly the pay was the participation of the kids," Bobby Zumbro said back in May after finding out his Hall of Fame induction.

Today, the ballpark which hosts the Cannon County Dixie Youth Association was partly created by him back in the day, including the current backstops, concession stand and the press box. He also helped line the fields and kept the grass mowed along with many other volunteers. However, he could not have done it without the help of others.

"They do not come about without the effort from a lot of people that had a part in doing that," Zumbro said.

One of helpers included another long time Cannon County supporter, Teddy Taylor, who used to broadcast the same Dixie Youth games on the local radio station.

"He was just everywhere like I was, and I just admired how he had enough time to be the preacher at a major church in Cannon County and still spread himself out to coach and help these kids out," Taylor said.

Of course, there was baseball and softball during the spring and summer, but he also help start the local junior pro basketball league, which is still going strong today along with current MTSU women's basketball coach Rick Insell.

Some of the work, Zumbro helped fixed in the old gymnasium inside the community center, including cleaning up the floor after birds would use the restroom, because the windows were broken inside it.

His hard work during the fall turned to the gridiron as he gathered all of the young football players, and they would conduct practice each Saturday morning. The team used old, donated equipment from the elementary team. Those practices would become the building blocks for later success for the local elementary and high school football teams. By the way, he also helped coach the elementary and high school freshman team.

What made Zumbro special was all of the young lives he touched throughout his time in Cannon County, including two fellow 2016 Hall of Famers, Tessa Tenpenny Jaggers and Eddie Bowman.

"It was a great pleasure to work with those kids, and go back and see them with children in school now," Zumbro said. "I had a great bond with a lot of those boys."

In 1990, Zumbro left Cannon County moved to Manchester, where he is retired today. However, his legacy still lives today, especially with the local youth sports leagues enjoying a lot of growth.

"It was everything, because he gave his time," Taylor said. "I saw a bumper sticker years ago that said, 'The best thing to spend on your kid is time.' I always took that to heart. I did not have any kids at the time, but Zumbro did. He put his son into it and not only did he coach his son, he was coaching all of kids around. He took on all comers, and he did not leave out anyone. If you were a kid and wanted to play, he would let you come into his program, and let you be a part of it. He gave his time to all of the different programs."

Like all of the Hall of Famers, his induction was a special moment for him, and it will be something he will remember for life.

"It will be an emotional experience, because of the friends and meaningful relationships I had," Zumbro said. "I know all of the people who are being honored this year. It will be a meaningful time."