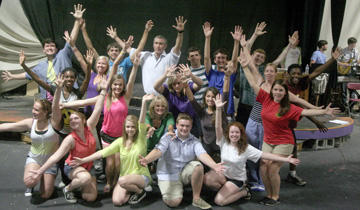 Book by Joe DiPietro
Inspired by and featuring the songs of Elvis Presley

The show, which premiered on Broadway in 2005, is a musical fantasy set in a small, old-fashioned middle-America town in 1955. When a mysterious, guitar- playing stranger sporting a leather jacket shows up, a life-altering change comes along with him. His presence shakes up everything (and everybody), especially a young girl who dreams of romance and a life on the road. In addition to the title tune, the numerous familiar songs include "Heartbreak Hotel", "Jailhouse Rock", "Don't Be Cruel", "Love Me Tender", and "Can't Help Falling in Love".
"All Shook Up" is directed by Kerri and Abbey Kairdolf with vocal direction by Rhett Brewer, band direction by Stephen Burnette, choreography by Caleb Marshall and produced by Carol Reed. This show features Amanda Ward, Greg Henry, Kip Gunnells, Karen Wainright, Elise Marshall, Joshua Wilson, Kayla Allsop, Terrie Kirby, Adam LaPorte, Matt Henry, Chelsea Bell, and Amanda Pratt. The ensemble includes John House, Grant Kairdolf, Gerold Oliver, Kait Kloss, Heather Porter, Laura Reed, Hannah Nokes, Samuel Evans, Hannah Collins and Allie Collins.
The performance schedule for all shows is Fridays and Saturdays at 7:30 p.m. and Sundays at 2:00 p.m. Tickets are $15 with discounts available for students, seniors and groups and may be purchased by calling the Arts Center box office at 615-563-(ARTS) 2787 or 1-800-235-9073. Tickets may also be purchased online at www.artscenterofcc.com. "The Blue Porch @ Arts Center" restaurant is open before all performances.
All Shook Up is sponsored by an anonymous friend and is part of the 2013 Super Subscriber Series. The Arts Center is located on 1424 John Bragg Highway, just west of the town of Woodbury, approximately 20 minutes from Murfreesboro, Manchester, and McMinnville and one hour southeast of Nashville. Box office hours are 10:00a.m. to 4:00p.m., Monday through Saturday.

If You Go:
What: All Shook Up
When: July 5, 6, 12, 13, 19 & 20 at 7:30 PM and July 7 & 14 at 2:00 PM
Where: The Arts Center of Cannon County, 1424 John Bragg Highway, and Woodbury, TN
Admission: $15 Adults, $13 Students & Seniors
Phone: (615) 563-2787 or 1-800-235-9073
Website: www.artscenterofcc.com