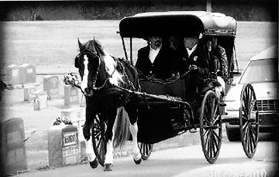 Dwayne "Bones" Cawthon drives the Curtis Morris family to the graveyard using one of Curtis' favorite friends to lead the possession. His granddaughters, young at the time of their grandpa's death, have fond memories of family time always revolving around the tack shop run by Mr. Curtis or working with the spotted saddle horses.
BY CINDY HALEY ODLE
Is 'the last request, the last wagon ride, the last deed of a four-legged friend' for the deceased or the living?

Before jumping to the immediate answer "oh, the family did this for him/her", think about it.

As one grows older, I think this answer becomes clearer. The last ride in the wagon or hearing the hoofbeats on the pavement, is a final gift to those left behind. For those who have prepared a horse or mule for a show, or to look their best, know this entails a lot of work. This 'work' fills up the idle time for family and friends during a very sad and difficult time as they come together to meet this last request.

Friends and family gather at one of their favorite places - the barn. As the baths begin, the clipping takes place, the hooves are painted, the tack or harness is detailed, and the wagon or buggy is prepared .... memories flow with tears turning into smiles and laughter. Most conversations begin with 'remember when ....', then the stories, smiles, tall tales and laughter begins.

The ride to the cemetery takes on a different sound. No music from the car radio, no sound of a motor or blinkers or squeaky brakes. The driver and family members become focused on the clip-ity-clop of four feet hitting the ground, along with the rhythm of the chains ringing or leather moving, as the four-legged friend moves along in perfect harmony. The fresh air blowing through perfectly manicured hair and the breeze hitting their faces, reminds family of the fun times.

So, the question is posed again, "Is the last request for the deceased or a gift to the living?"