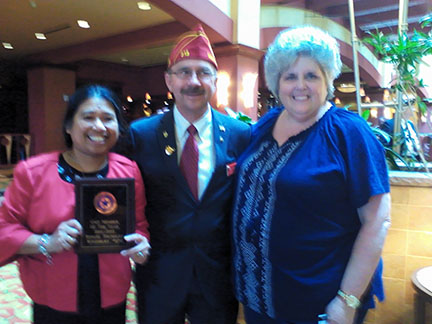 By COL. JIM STONE
American Legion Post 279 is pleased and honored to announce the selection of Ronjie Tocholke as the Auxiliary Unit Member of the Year for the State of Tennessee Department of the American Legion.
The State of Tennessee has 195 Posts throughout the State, some as large as 2,000 members strong. Pictured in the above photo are left to right, Ronjie Tocholke; National Commander Michael D. Helm, from the American Legion Headquarters in Indianapolis, Indiana; and Amy Ferrell, President of the American Legion Post 279 Auxiliary Unit 279.
Ronjie Tocholke has been a real workhorse and a tremendous asset in the Auxiliary Unit of the Hilton Stone American Legion Post 279.
When there is a requirement to work or support a fund raising event, Ronjie is there, with a smile and a positive attitude to get the job done. She is a key player in preparing the monthly meals served at the American Legion meetings. Ronjie is married to Martin Tocholke, recently retired from the Alvin C. York Medical Center in Murfreesboro (The VA Hospital). Ronjie and Martin make a great team.
CONGRATULATIONS RONJIE! Well deserved.