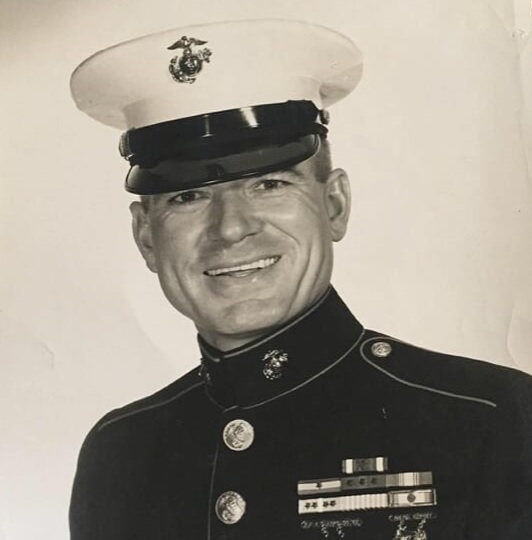 MGySgt Kenneth Watson Davenport, USMC (Ret.) took his last earthly breath on Sept. 22, 2015 at the age of 86. He was born on May 1, 1929 in Woodbury, TN to the late Lawrence Elmer Davenport and Verna Lee Davenport. He was also preceded in death by his first wife, Myla Faye Thomas Davenport; son, Gary Wayne Davenport; sister, "Mary" Helen Holder; and a brother, Thomas "Tom" Jewel Davenport.
He is survived by his sons, Kenneth "Bruce" Davenport of Murfreesboro and Kenneth "Kenny" Wayne Davenport of Woodbury; daughter, Theresa Davenport (James Robert) Batey of Strawberry Plains, TN; grandchildren, Christopher Bruce Davenport of Woodbury, Angela & Wes Bowman of Murfreesboro, Dalton Wayne Davenport of Smyrna and Kenneth Watson "KW" Davenport of Woodbury, Charles & Cori Miller Batey of Portland, OR, Jordan Batey & Will Brooks of Johnson City, TN; one great grandson, Keith Bowman of Murfreesboro; brothers, Ray (Lois) Davenport of Memphis and Bill (Betty Jean) Davenport of Murfreesboro and a sister, Betty Whitehead of Woodbury.
Kenneth was the oldest child of his family and worked alongside his father until joining the USMC during his senior year of high school in 1948. He married Myla Thomas in 1950 before his tour of duty in the Korean War. Ken & Myla Faye made a down payment of $200 cash for 60 acres on July 15, 1961 & he sent monthly payments until the final payment in 1975. During those years, he served 2 tours in Vietnam. He finished his military career in 1977 with 30 years of service. Bruce was their oldest child born in 1956, Gary soon followed in 1958 and Theresa in 1963. When he retired, he moved his family to Woodbury where he built a home & started farming his land. Ken & Myla Faye divorced & he later married Linda McCoy Tucker and had a son, Kenny in 1985. On the farm he loved to cut, rake and bale hay. He enjoyed raising a garden and canning. He also liked to raise cattle and goats. He and his friend, Bobby Corley, also built several houses in Cannon County during the 1980's. He had many interests including motorcycles, guns, airplanes and his little dogs "babies." He was a member of the Dark Hollow Church of God (Seventh Day). He was also involved with many different organizations such as the NRA, Disabled Veterans, American Legion, VFW, Fleet Reserve Association & Sons of Confederate Veterans to name a few.
Visitation and celebration of life will be held at the Center Hill Baptist Church on November 14, 2015 from 10am-11:30am. A graveside service will follow at Blue Wing Cemetery at 12 noon with Greg Mitchell officiating. In lieu of flowers memorial donations may be made to the Center Hill Baptist Church or charity of choice. The service for Kenneth will be held in conjunction with the service for his son, Gary. Smith Funeral Home is assisting the family with local arrangements. www.smithfuneralhomewoodbury.net Smith Funeral Home (615)563-5337