Homecoming up next for victorious Lions
Sunday, October 6, 2019 9:31 am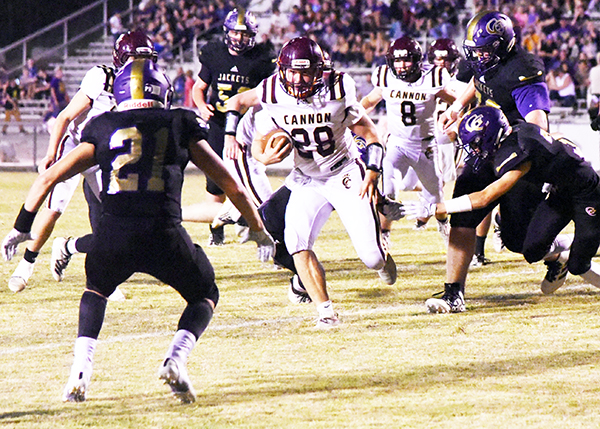 Cannon County running back Brady Cunningham (28), the leading rusher for the Lions, fights his way to the Grundy County end zone for one of his three touchdowns Friday. (Photo by Ronny Burks)
Brady Cunningham scored three seond half touchdowns as the Cannon County Lions defeated Grundy County 28-22 in region football action.
Cannon now moves to 3-4 on the season and 1-2 in region play. Grundy County is still looking for their first win 0-6 overall and 0-2 in region play.
Next up for the Lions will be homecoming festivities all this week concluding with their homecoming game Friday night at Fred Schwartz Field against a 2-4 Cascade team who has won their last two consecutive games.
Totals:
Cannon County: Total Yards: 329 Rushing 321, Passing: 8
Rushing 47-321. Brady Cunningham 16-153 3 TD, Conner Tucker 6-75, Edward Robertson 7-31 1 TD, Nick Phillips 4-6, Logan Bundy 14-56
Passing: Nick Phillips 1-1 8 yards 0TD 0INT
Grundy County: Total Yards: 245 Rushing 230, Passing 15
Rushing: 48-230. Gavin Tate 17-120 1TD, Evan Nunley 21-103, Jordan Hackworth 7-18 1TD, Ethan Brady 1-6, Trenton Ashley 1(-)14,Jacob Dixon 3-(-)8 1TD
Passing: Dixon 1-3 15 yds 0TD 0INT
Receiving: Hacksowrth 1-15
Scoring:
1Q: GC: 7:59 Jordan Hackworth 1 yd run EPNG 10 plays 57 yds 4:01 6-0
1Q: CC: 2:32 Edward Robertson 12 yd run EPNG 11 plays 60 yds 5:14 6-6
3Q: CC: 8:29 Brady Cunningham 6 yd run 2pt conversion good 8 plays 83 yds 3:25 14-6
3Q: GC: 3:54 Jacob Dixon 1 yd run 2 pt conversion good 9 plays 69 yards 5:31 14-14
3Q: CC: :45 Brady Cunningham 9 yd run EPNG 6 play 44 yards 2:58 20-14
4Q: GC: 6:28 Gavin Tate 1 yd run 2 pt conversion good 4 plays 15 yards 2:01 22-20
4Q: CC: 3:27 Brady Cunningham 19 yd run 2 pt conversion good 6 plays 68 yards 3:54 28-22
Region 4-3A Standings
Upperman 6-1, 2-0
Smith Co. 4-2, 2-1
Sequatchie 4-3, 1-1
York 2-5, 1-1
Cannon 3-4, 1-2
Grundy 0-6, 0-2
Region results from Friday October 4
Upperman 35, York 0
Smith County 38 Sequatchie County 19