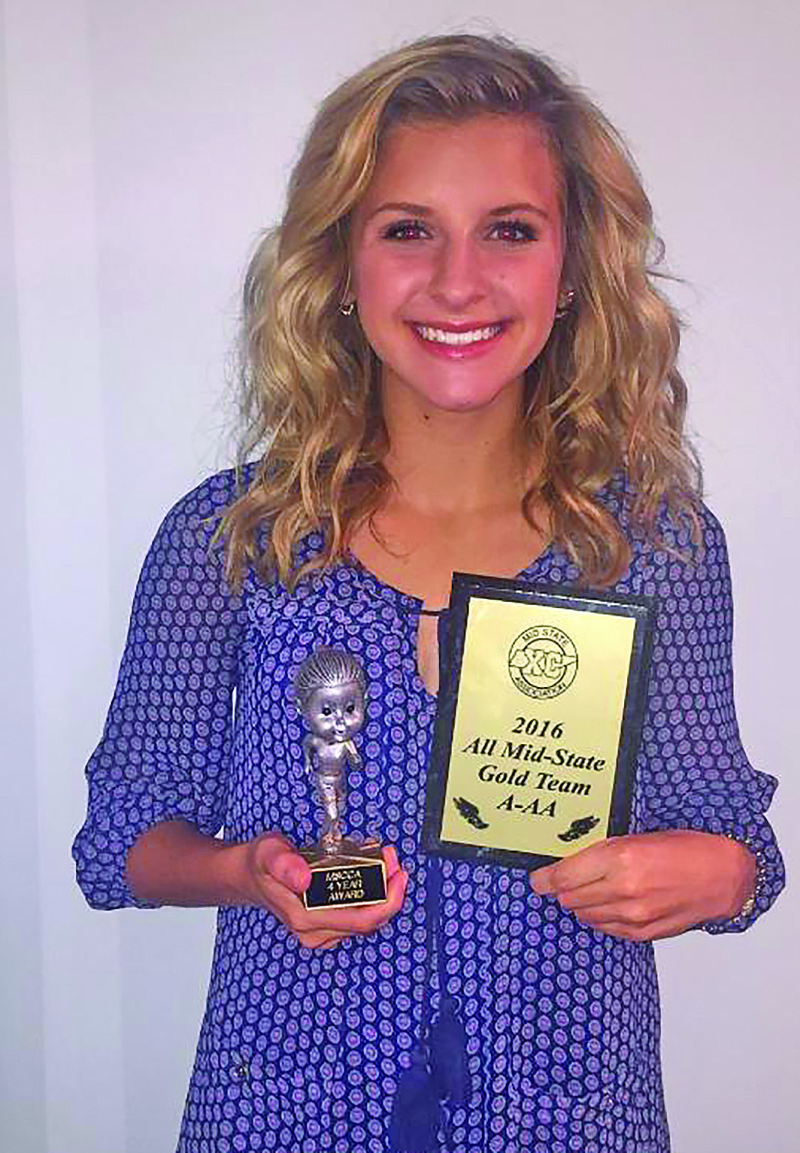 By DAVID HUNTER
The Cannon Courier

Cannon County High School cross country senior athlete Hannah Whited finished up her high school XC career with a 16th place finish at the TSSAA Cross County State Championship on the Steeplechase course at Nashville's Percy Warner Park.

Whited completed the 5,000-meter course in a time of 20:35.40, which was almost three minutes behind the state champion, CAK junior Rebecca Story. A couple of weeks earlier, Whited finished runner-up to Signal Mountain Senior Taylor Luthringer in the Region 4A-AA meet. Luthringer also finished second at the state meet.

"I thought it was okay, and I gave it my all I had now," Whited said after her final meet. "I am just happy, good way to end the season."

CCHS cross country head coach Marc Larson added, "I thought it was great. 16th was wonderful. She had a lot better time than last year. She improved so I was really happy."

Of course, this was the meet with the hardest course, and toughest competition, which crow-ned a state champion, and Whited joined an elite list in Cannon County history as one of few athletes to ever qualify for a state tournament in any sport all four years while attending the school.

It is something she is very proud and appreciative of the chance to represent the Lionettes during all four years and be so successful in cross county.

"It has meant a lot, and it has opened up a lot of opportunities for me," Whited said. "I have got to meet new people and make a lot of friends from other schools. It is not only a great sport, but the people in it are great as well."

Larson added, "What Hannah brings to the program's just decantation. She is there every practice, and she just works hard every practice. This is the most important thing for kids to learn this is what happens when you work hard, you get to be in the Top 20 of the state. It proves what hard work can do."

Besides the tough competition, the 5,000 Meter course was just as hard, which was run on the same grounds as the popular horse race at the Steeplechase each year. The good news was the TSSAA did not make any of the runners go over the jumps like the horses do every year.

"It was definitely a tough course, I tried to be strategic about it on hills by powering up and let the hills work for me on the way down," Whited said. "I used it to the best advantage I could."

Larson added, "Steep-lechase is deceptively tough. It does not look that tough, but it wears runners down. Today was a good, fast day for the Steeplechase course."

2016 marked an impro-vement in time and performance for Whited than the previous year's state meet. Of course, last year she was not at 100 percent for the event as she finished 26th with a time of 21:27.64 on the same course.

Since this was the last ever cross country race, she represented for the Lionettes, it brought mixed feelings to her when she finished it.

"It is bittersweet, and it is kind of weird, because this is all I have done," Whited said. "I cannot remember doing anything else. I am just soaking it all in."