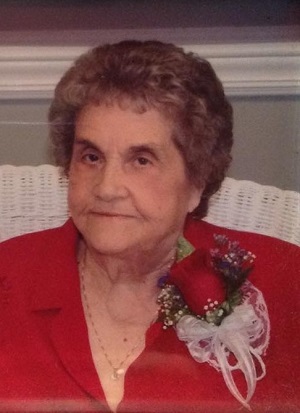 Gracie Mae Knox Reed, 91, of Woodbury passed away Wed., March 11, 2020 at Woodbury Health and Rehab. She was a native of Cannon Co.
She is survived by her daughters, Patricia Reed Merritt of Smyrna, Judy Reed Hayes and her husband, James of Woodbury, Fran Reed Jones and her husband, Jeff of Smyrna, Gina Reed Burke and her husband, Mitch of Woodbury, and Jill Reed Spry and her husband, Tim of Woodbury; 8 grandchildren, Terri Duggin, Tracie (Jeff) Estes, Ryan Jones, Jon Jones, Lana Spry, Carly Grace Spry, Jesse Burke and Shelby Grace Burke; 8 great grandchildren, Kelsie (Cole) Reed, Lexie Estes, Lena Duggin-Hodgson, Audrey, Jeremiah, Jon Wayne, Maria and Elizabeth Jones; great great grandson, Carson Reed; brother, Clyde Knox of Woodbury; Nieces, Wanda Knox Gunter and her husband, Dee; and Linda Knox Gunter and her husband, Charles; Special friend and Caregiver, Lisa Nichols.
Gracie was preceded in death by her husband of nearly 74 years, Wiley Reed; her parents, Frank & Pearl Rogers Knox; and her brother, Bobby Knox.
She was a member of the Woodbury Church of Christ where she was involved with many church activities. She enjoyed cooking and was retired from catering. Ms. Gracie was well known for her fried pies and cakes. She also worked for Wiley Reed Construction, the 911 Center and the Cannon Co. Sheriff's Dept.
Funeral Services will be 11 am Saturday, March 14, 2020 at the Woodbury Church of Christ, Old Auditorium with Bro. Tim Knox and Bro. Charlie Gunter officiating. Interment will follow in Riverside Gardens Cemetery. Visitation with the family will be from 4 pm until 8 pm., Friday, March 13, 2020.
In lieu of flowers, donations may be made to Woodbury Church of Christ, Woodbury Day School or the Short Mountain Bible Camp.