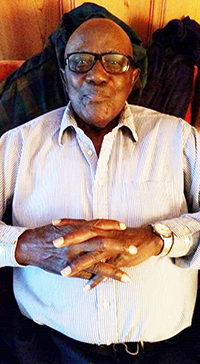 Mr. Charles E. "Charlie" Brown, 87, of Readyville passed from this life on May 24, 2019. He was born on January 9, 1932. He was the son of George Brown and Willie D. Alexander Brown.
He was preceded in death by his father, George Brown; mother, Willie D. Brown, sisters, Lorell Brandon, Betty McBroom, Mary Brown, Margaret Dillard, and Dora Johnson and a brother, George Brown, Jr.
He leaves to cherish his memory sister, Katherine Ezell of Nashville; brother, Thomas Brown of Nashville; best friend Helen (Leo) Pleitez and a host of nieces, nephews, cousins, and other friends.
Mr. Charlie was a hard-working farmer. He was a retired veteran of the U S Air Force with 23 years' service and had also served in the U S Army for a period of time. Following his Air Force retirement, he came back to Readyville and bought his farm in 1963. He worked at the VA Hospital in Murfreesboro for 40 years as a cook. He retired from the VA and continued to farm. He was an active member of the Woodbury Lions Club for many years. He was also a devoted member of the Auburn Hills Church of Christ and the former Water Street Church of Christ.
Visitation will be held at Smith Funeral Home on Wednesday, May 29, 2019 from 4-8 pm. Funeral services will be Thursday, May 30, 2019 at 2 pm in the Smith Funeral Home chapel. Interment will be in Hoover Cemetery. Share thoughts and condolences with the family at www.smithfuneralhomewoodbury.net. Smith Funeral Home 303 Murfreesboro Rd. Woodbury, TN 37190, 615-563-5337