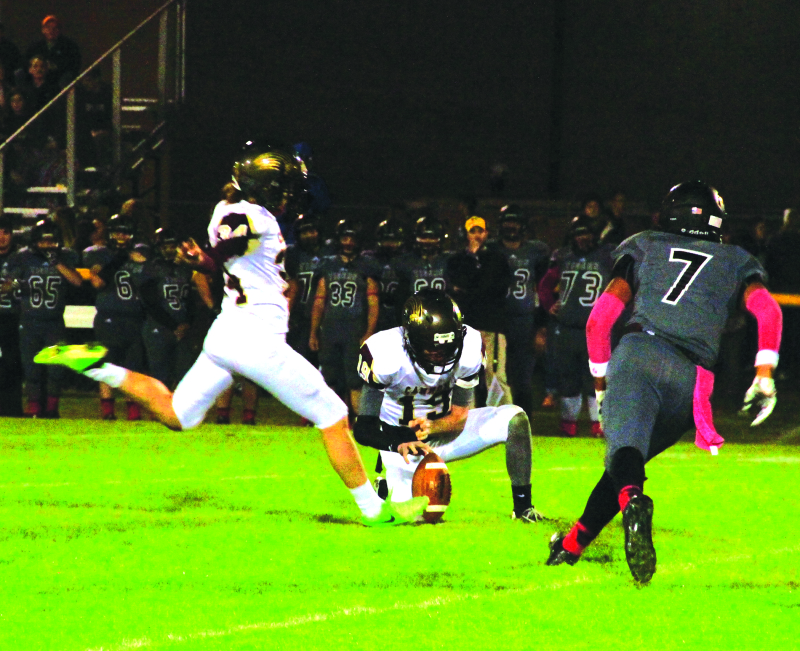 DAVID HUNTER
The Cannon Courier
The Lions football team was hoping to end 2015 on a positive note but instead was mauled by rival DeKalb County 69-3 Friday night to end the season at 0-10.
The Tigers dominated their rivals in every part of the game with the offense scoring points on every possession, while the defense forced four Lion turnovers, three fumbles and one interception. The interception came on the Lions' first offense play from scrimmage.
Cannon County had a chance to score at the Tigers one-yard line, but the defense held and kept their adversary out of the end zone. It was the closest chance the Lions had of scoring a touchdown.
The Lions only points came at the end of third quarter when senior placekicker and homecoming queen Livia Walker booted a 28-yard field goal. She had a chance to end the season with three more points, but she missed 35-yarder as time expired.
CCHS was without several key players, because of injuries including senior running back Austin Brock. However, seniors Eldon Resko and Jeremy Litchford picked up the slack on offense with Litchford contributing 157 yards of offense, while Resko added 19 yards on the ground. Tyler Gilley caught a 46 yard pass from quarterback Brady Page, which was Page's only completion of the night.
The Lions finished with 236 yards of total offense, while the Tigers had 481 in the win and a 55-0 lead at the break.

DCHS advances to next week's playoffs, while CCHS season is over.