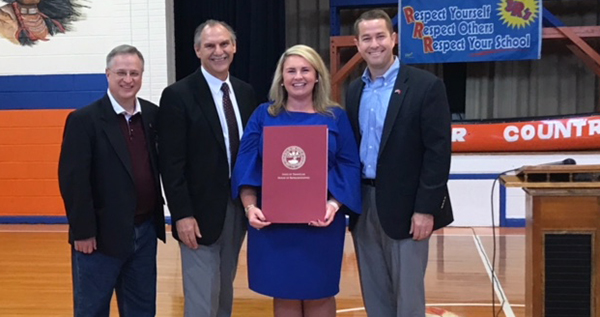 NASHVILLE -- State Representative Clark Boyd (R-Lebanon) has honored Woodland Elementary School Principal Angela Cossey with a House proclamation for being selected as a finalist for the 2018-2019 Principal of the Year award presented by the Tennessee Department of Education.

This award is given annually to a school leader for outstanding service in education and exceptional leadership that drives overall improvements in his or her school. To qualify, candidates must have a minimum of three years' experience as a principal and a minimum of five years' experience in Tennessee public schools. In addition, all nominees must have a proven track record of exceptional gains in student learning.

Cossey has served as principal at the Bradyville, Tennessee school for four years. During her tenure, she's had a remarkable impact on countless students. Additionally, she continues to encourage her staff to utilize Professional Learning Communities to assist them in furthering their training while also supporting their desire to grow in their leadership capabilities.

"Angela does an outstanding job as principal, and she is very deserving of this honor," said Representative Boyd. "I am so very excited for her and her family, and our community is extremely fortunate to have her as a leader of our children."

"Angela is a fantastic educator and has a deep concern for her students as lifelong learners engaged in excellence," said William Curtis, Cannon County director of schools.

The winner will be honored during the annual LEAD Conference in Nashville in early October. For more information about the Principal of the Year award, please click here.

Clark Boyd serves as a member of the House Insurance & Banking Committee. He is also a member of the House Consumer & Human Resources Committee and Subcommittee. Boyd lives in Lebanon and represents House District 46, which includes Cannon, and part of Wilson and Dekalb Counties. He can be reached by email at: Rep.Clark.Boyd@capitol.tn.gov or by calling (615) 741-7086.