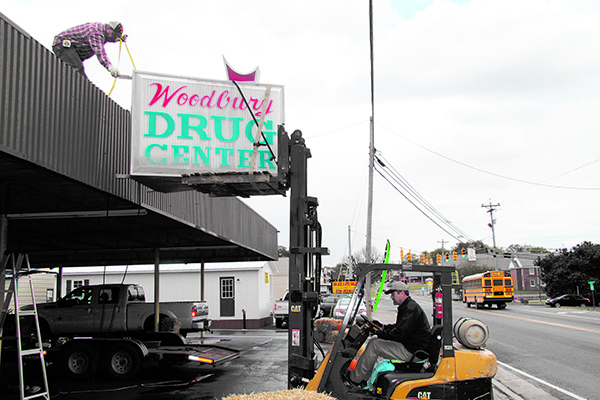 "The Little Pharmacy with the Big Heart" has opened in Woodbury.
Located at 604 West Main Street next the Middle Tennessee Natural Gas, the pharmacy marks a revival of what was at one time one of Woodbury's mainstay businesses.
And the new Woodbury Drug Center also features some familiar faces.

Pharmacists Dan Scales and Richie Hunter have been practicing their profession for 50 and 48 years, respectively. They both worked at the original Woodbury Drug Center, from 1970 to 2000.

Even though the pharmacy is geared toward drive-through pickup traffic, pharmacist Rhonda Maynard says customers are encouraged to stop by, come in and visit.

"We want people to know there is room to come in and get to know your favorite pharmacist," Maynard said.

The new pharmacy has seven employees, including Scales and Hunter.

"There are familiar faces here and our focus is on customer service," Maynard said.

Maynard, with 13 years of experience, is also part of the pharmacist staff, as is Jason Austin, with 10 years experience.

Hours of operation are Monday through Friday from 8 a.m. to 6 p.m. and Saturday from 8 a.m. to 1 p.m.

"It is easy to transfer your prescriptions to here. You can come in or do it over the phone," Maynard said.

Serving as pharmacy technicians are Jessica Hayes (15 years experience), Brittany Jernigan (10 years) and Karla Foster Kemp (20 years).
"
Our service will be not only friendly, but fast. There will not be a two hour wait here," Maynard said. "We want to be your pharmacist, your friend, your neighbor."

Maynard said the opportunity to work more closely with customers is what drew both her and Austin to the new venture.

"Jason and I have both worked for chain pharmacies in the past. We feel we can provide more personal service in an independent setting," she said.

"I wanted to work at an independent pharmacy for seven years now and it is awesome to see it come together," Austin said.

Community involvement is high on the new pharmacy's list of priorities.

"We will have a scholarship program, sponsor ball teams, do other things to support Woodbury and Cannon County," Maynard said.