Vine ripe tomatoes at the Farmers Market
Tuesday, July 3, 2018 4:10 am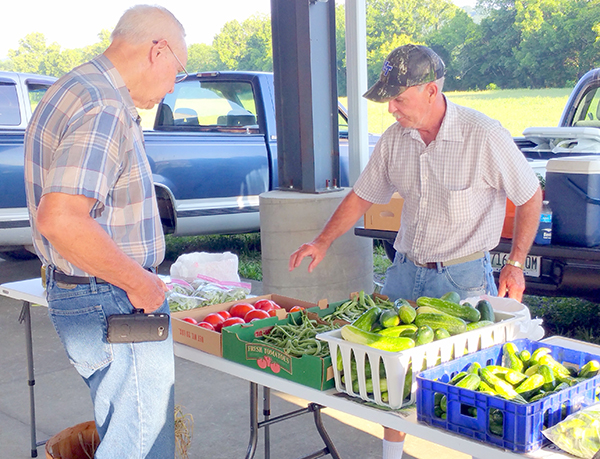 Dan Schau with a great selection of tomatoes, green bean and cucumbers.
Locally grown vine ripe tomatoes beginning to ripen with a good supply at the Farmers Market. For those hankering for a summer red jewel, might be a good idea to drop by the Market fairly early. Irene's fried pies and Jessica Gannon with a great selection of potted plants ranging from strawberry & blackberry plants, flowers and small shrubs for your landscape.
Harold Duggin, Harold Underwood, Ray Shipp and Dan Schau and Ken Beaty had a great selection of cucumber, squash, green beans, new potatoes, onions, cabbage and Ken Beaty with a unbeelievable tasting local honey. Thomas Howell and his granddaughter Chloe Howell has a large juicy supply of delicious blackberries.
Another new face on Saturday was Mrs. Reed with canned pickles and banana peppers.
The Market this Saturday when it opens at 6:00 A.M. The Cannon County Farmers Market located at the Arts Center of Cannon County will be open until Noon or until the veggies are gone.
If you would like to be a vendor or need additional information, contact Bruce Steelman at the University of Tennessee Extension Office at 614 Lehman Street or 615-563-2554.