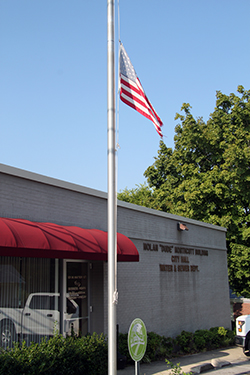 Longtime alderman JoAnn Davis is being honored this week by the Town of Woodbury following her passing on Aug. 25.
Davis served as an alderman from 2000 until 2016. She was originally appointed to the board when her husband Buddy, who was serving in the position, died.
Woodbury mayor Andy Duggin has had the flag at city hall lowered to half-mast throughout the week in recognition of Davis' service to the community.
"'Living life' was one of her notable quotes when people asked JoAnn how she was doing and she certainly did that in a big way," Duggin said.
It is noted in her obituary that Davis "had a personality and sense of humor that brought abundant laughter and joy into any room she entered."
The Town of Woodbury appreciates her service as well as her husband Buddy's service, Duggin said.
"JoAnn was noted for speaking her mind. You didn't have to wonder where she stood on things because she would tell you," the mayor added.
Duggin said he knew Davis almost all of his life.
"On a personal note, JoAnn always treated me like one of the family, like her own son Kirk, who has been a friend of mine as long as I can remember. If Kirk got in trouble, I got in trouble and JoAnn would discipline me just like she would Kirk.
"I love her and will miss her," Duggin said.
Davis was laid to rest Monday at Riverside Cemetery.