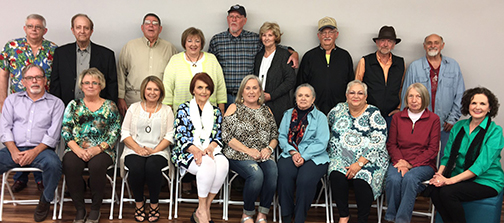 The 47th reunion of The Woodbury Central High School - Class of 1970 was held Saturday evening, May 6, at the Wellness Center in Woodbury.
Those class members in attendance were: First row from left to right - Randy McBride, Marlene Vinson, Patsy Osment McBride, Melinda Bryson Simmons, Janet Vassar McBride, Irma Adams Melton, Judy Borren Holt, Wanda Sissom Daily, Melinda Burger Snyder; second row from left to right - Boby Taylor, Russell Thomas, Van Nichols, Linda Young Jarrett, Dwight Barrett, Betty Jane Jennings Edgar, Donnie Morris, Bobby Nichols, James Nile Reed.
The Class of 1970 will meet again for the 50th reunion in 2020.