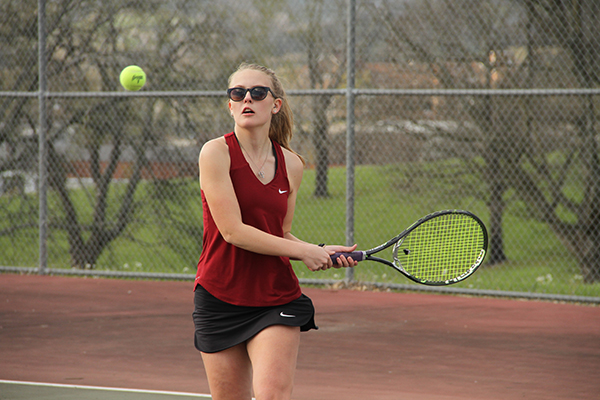 Cannon County Girls Tennis continued to grab team wins this past week.
On Monday the team bested Clay County 6-3 in a series of matches. All eight Cannon County team members swept their singles matches but lost in three doubles clashes. Lauren Underwood, Taylor Meeks and Julianna Schau each shut out their opponents 8-0.
Tuesday, April 10, the girls improved their overall district record to 3-0 beating Watertown in a set of matches 6-1. Again all of the Lionettes swept their individual singles matches with Watertown picking up the only win in a doubles match.
Thursday, April 12 the team lost to Coffee County 4-3. Taylor Meeks, Tyger Kennedy and Julianna Schau won their singles matches. The Lionettes were swept in doubles competition.
This week is the last week of the regular season.
The Boys Tennis team began the week with a win in matches against Clay County. The Lions swept the five game singles set winning 6-1 while Clay's only win was a doubles match.
Tuesday, April 10 the Lions slipped to 1-2 in district play with a 5-2 loss to Watertown. Lane Willis and Brady Cunningham got the wins for Cannon. The Lions lost both doubles matches they participated in.
Coffee County shut out the Lions 7-0 on Thursday, April 12. The Red Raiders won both the singles matches and both doubles matches. Cannon's record going into Monday is 3-6 overall and 1-2 in District 8AA play.