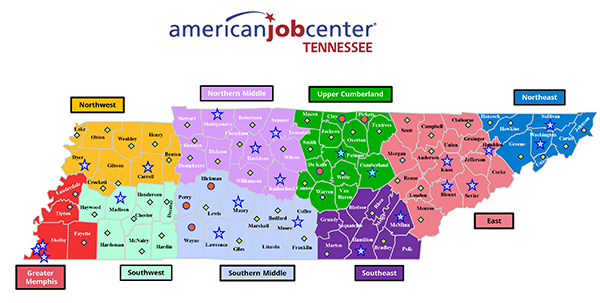 NASHVILLE - The state of Tennessee recently realigned its 13 Local Workforce Development Areas into nine, allowing the state's workforce development initiative to mirror the footprint of other state programs, creating a synergy of services for Tennesseans.

Members of the State Workforce Development Board unanimously approved the realignment during their May 11, 2018 meeting in Nashville. Tennessee's new workforce development areas begin operation on July 1.

The nine new areas are Northwest, Greater Memphis, Southwest, Northern Middle, Southern Middle, Upper Cumberland, Southeast, East, and Northeast.

"Aligning the state's workforce development resources will provide streamlined services for our citizens and help Tennessee lead in job creation by ensuring we have a trained workforce ready to meet the needs of current and future employers," Gov. Bill Haslam said.

The State Workforce Development Board has been evaluating the need for realignment of the workforce areas and the impact it would have on the state. It determined nine areas would best suit the state because many other programs use a similar structure. The new workforce development areas align with the Tennessee Department of Economic and Community Development base camps, Tennessee Reconnect Communities, and Tennessee Pathways regions.

Tennessee Department of Labor and Workforce Development Commissioner Burns Phillips traveled across the state this past spring to meet with local elected officials. During meetings in Jackson, Nashville, and Knoxville, Phillips had the opportunity to speak with local leaders and explain the benefits of realigning the workforce development areas.

"As a state, we need to prepare to re-skill many workers who, after being employed by a company for decades, must now learn new skills to meet the demands of a skills-based society," Burns said. "This realignment puts Tennessee in a position to do that and lead the nation in this transition."

Phillips also met with local workforce development board chairs and community leaders from across Tennessee so all stakeholders had a clear understanding of the realignment plan.

"The major takeaway from each meeting was that Tennessee needs to further enhance its regional development capacities and optimize opportunities to share and leverage resources," Phillips said. "This will also continue to create access to services and opportunities in rural areas."

Local elected officials are currently deciding on the leadership of each new area and which entity the boards will partner with to operate local workforce development services in each of Tennessee's 95 counties.

While the transition to the newly realigned areas takes effect on July 1, current partners will continue to operate workforce development services in their areas until September 30. After that date, each new local board and its chosen partner will make any changes in service they deem necessary.

Workforce development services in Tennessee are funded completely by the federal government and the state disperses the monies to local areas in accordance with federal and Tennessee laws.