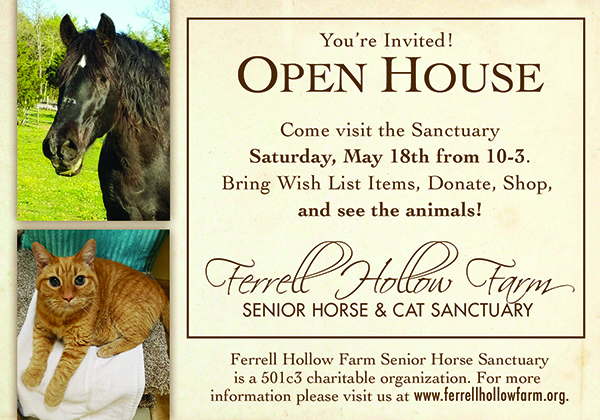 The Spring Festival will take place on Saturday, May 18th, 2019 from 10:00 a.m. to 3:00 p.m. where FHFSHCS welcomes the public to tour the Senior Horse & Cat Sanctuary as well as learn about the sanctuary programs.
Guests will be able to view the 70-acre property, the Memorial Gardens and see the senior equine and feline residents. Unique merchandise will be for sale that will directly benefit the sanctuary and its residents.
The event is Free to the public but donations and/or Wish List items for the Horses and Cats are very much appreciated! Your support is needed for us to provide the quality of life our senior residents deserve.
Our mission is to advocate and care for special needs senior horses and cats that require permanent sanctuary setting and are not afforded adequate care if left in their current situation.
The horses we take in are over the age of 25 and who have suffered in their former lives--after years of providing hard service to human beings, some were abandoned, some were starved, some were taken to kill auctions, some were abused. Since January 2019, we have rescued 4 neglected senior Draft horses destined for slaughter and are rehabbing them back to health.
The cats that we help are of geriatric age and are often from our local animal shelters. Thru no fault of their own they find themselves in unfortunate situations facing abandonment or euthanasia and often have medical issues that require intensive care and attention. Recently we rescued a senior shelter cat with serious medical issues, and he is one of our sweetest feline residents.
We are a 501c3 Non-Profit organization and your tax-deductible donations will help give these special souls what they so deserve!
Cindy Myers is the founder and director of Ferrell Hollow Farm Senior Horse Sanctuary.
Who: Ferrell Hollow Farm Senior Horse & Cat Sanctuary
What: Spring Open House
Where: Ferrell Hollow Farm 5323 Ferrell Hollow Road Readyville, TN 37149
When: May 18 th from 10:00 am to 3:00 pm
Why: Gain public support for our Non-Profit Sanctuary
For more information about our organization and our wish list, please visit www.ferrellhollowfarm.org