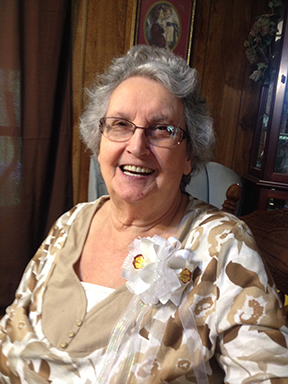 Rose Mary Rospapa Burdick, 81, passed away Sunday, December 06, 2015 at her home at her home following an extended illness. She was a native of Chicago, IL.
She is survived by her children, George (Marlyn) Burdick and Richard (Tera) Burdick all of Murfreesboro, Gary Burdick of Lascassas, Carl (Cindy) Burdick of McMinnville, Patrick (Jackie) Burdick, Mary Lou Burdick, Janet (Walter) Dutton, Jr. and Helen (Michael) Rogers all of Bradyville; also surviving are 22 grandchildren and 29 great grandchildren.
Rose Mary was preceded in death by her parents, George & Julia Csepes Rospapa; her husband, Richard V. Burdick whom she married on February 11, 1956; her infant daughter, Julia C. Burdick; 2 grandsons, Mark E. Burdick & Owen H. Brown; 4 brothers and 3 sisters.
Ms. Burdick was a member of the St. Rose Catholic Church but attended Simmons Chapel Free Methodist Church. In addition to being a homemaker, she retired in 1996 from MTSU as a Secretary. Her passion in life were her friends and family whom she cherished. She spent her life raising her children and grandchildren. She was a loving wife and caregiver. She loved life and was a God loving woman.
Funeral services will be 1 pm Wednesday, December 09, 2015 in the Chapel of Woodbury Funeral Home. Interment will follow in Cherry Cemetery. Grandsons will serve as pallbearers. Visitation with the family will be from 5 pm until 9 pm Tuesday, 12/08/15.
Woodbury Funeral Home, 615-563-2311 or www.woodburyfuneralhome.net