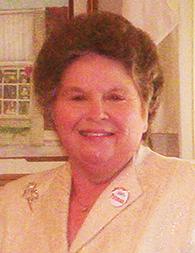 Hello Cannon Countians! For those of you that are not acquainted with me, or never experienced dinning at Fine Swine Bar-B-Que on the square, let me introduce myself.
I am Anna M. Pittman and I am seeking the office of County Executive of Cannon County. Married to my high school sweetheart Ronnie O. (George Pittman), we have two children, Lisa Marie, 41 and Jason (JP) Michael, 35.
We reside in the Bradyville Community.
Born and spent formative years in the Donelson area before moving to this beautiful county 15 years ago after extensive travel with my husband, who started his career as an Explosive Technician, received his engineering degree and climbed the ladder to one of five Vice Presidents for the largest Explosives Manufacturer and Service Company in the world. After his early retirement, when the company sold its U.S. interest and moved the main North American Operations to Canada, We built G & B Construction Company and my Son opened JP'S Fine Swine Bar-B-Que.
I have managed and dealt with all aspects, from licensing to accounting and taxes for both G&B Const. Co as well as JP'S Fine Swine Bar-B-Que. I have been extremely involved in our County, serving in many capacities, here are just a few, 4 years on the Cannon County Chamber of Commerce Board of Directors, completed the County Leadership Management Program, currently serving as Sec/Tres and on the personnel committee on the 911 Board of Directors, past Vice Chairperson for the Cannon County Republican Party, President for Indian Springs Homeowners Association and Director for the Bradyville Neighborhood Watch program at the Bradyville Church of Christ. I support: the School System, the Volunteer Fire Departments, the Child Advocacy Center, the American Legion and so many others, also very near to my heart the Animal Shelter Committee.
With my years of Civic and Financial experience, I feel that I am well qualified for the office of County Executive. I will personally account for every dollar that comes into the County, address all issues such as taxes, zoning, growth and progress in all areas, as well as give respect to every person who enters my office regardless of their name.
I ask for your vote and support. Voting is your right, paid for by the blood of so many. Being born on Veterans Day, this is so important to me. Again I ask for your vote on August 7th, and promise I will always work to make our county all it can be. If I don't see you on the campaign trail, feel free to call me at home at 765-7571
Thank you and God Bless You.
Sincerely ,
Anna M. Pittman
Candidate for County Executive
Paid for by Pittman for County Executive
Kelly McKean, Treasure