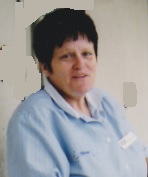 Ms. Margie Faye Bynum Mears, 57, of Woodbury passed away on April 11, 2018. She was born on March 14, 1961 in Woodbury, TN. She was preceded in death by her father, Bobby Bynum; sister, Deborah Perry; and step-sons, Glen Grier, Brian Mears, and Kenneth Mears.
She is survived by her sons, Christopher Powell James of Murfreesboro and Rodney Joel James of Georgia; daughter, Jennifer Carol (Steven Nelson) Pittard of Tracy City; mother, Betty Bynum of Woodbury; step-son, Jason Mears of New Orleans; step-daughter, Becky Grier of Nashville; brothers, Randy Bynum of Tullahoma, Barry Bynum, Ricky Bynum, Michael (Tracy) Bynum, and David Bynum all of Woodbury; sister, Kathy Thompson of Woodbury; and granddaughter, Gracie Lou Saddler.
She was a loving mother with a big heart who would help anyone. She relaxed by coloring pictures in adult coloring books. She loved being with her family and friends. Her cat, Rascal Flatts and her dog, Jake were a great comfort and companions for her. She was a big fan of Rascal Flatt's music. She was baptized at Center Hill Baptist Church and had been attending Plainview Baptist Church more recently.
Visitation will be held at Smith Funeral Home on Saturday, April 14, 2018 from 10am-1pm. Memorial services will follow in the Smith Funeral Home chapel at 1 pm. Johnathan Womack will officiate. In lieu of flowers memorial donations are requested through to assist with funeral expenses. Share memories and condolences at www.smithfuneralhomewoodbury.net Smith Funeral Home, 303 Murfreesboro Rd. Woodbury, TN 37190, 615-563-5337