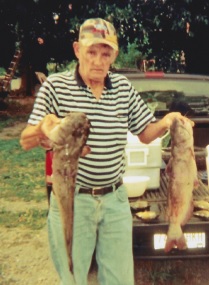 Mr. Joe Pelham, 70, of Woodbury passed away on September 28, 2017 in Nashville, TN. He was born on October 15, 1946 in Woodbury, TN. He was preceded in death by his parents, Noah Pelham and Alice (Phillips) Pelham. He was also preceded in death by a daughter, Crystal Pelham and a brother, Jerry Pelham.
He is survived by sons, Tim "Timbo" (Amber) Pelham of Woodbury, Michael (Ellen) Brinkley of Woodbury, Joe (Theresa) Pelham, Jr. of Shelbyville, Andy (Merridee) Pelham of Murfreesboro; daughters, Teresa Eckels of Smyrna, Joann Pelham, and Sherry Pelham both of Nashville; brothers, Ronnie (Deborah) Pelham and Bill Pelham both of Woodbury; sister, Faye Abercrombie of McMinnville; aunt, Gladys Davis of Woodbury; many grandchildren, several great grandchildren, nieces, nephews, cousins and friends.
Mr. Joe grew up in a hard-working and close-knit family. He and his brother, Jerry, worked together at Pelham's Auto Salvage for many years up until Jerry's passing and the business sold. When he wasn't working he spent every minute he could outside. He enjoyed riding horses, camping, and going fishing with his friend Mike Simmons. He attended Amity Baptist Church.
Visitation will be held at Smith Funeral Home on Monday, October 2, 2017 from 4-8 pm. Funeral services will be Tuesday, October 3, 2017 at 2 pm in the Smith Funeral Home chapel. Interment will be in Gaither Cemetery. In lieu of flowers donations may be made through Smith Funeral Home to assist with funeral expenses. Share memories and condolences with the family at www.smithfuneralhomewoodbury.net Smith Funeral Home, 615-563-5337