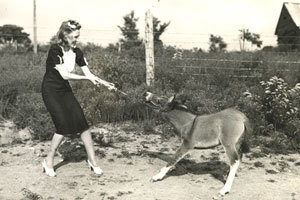 They have served in war zones across the globe, including the Boer War in Africa at the turn of the 20th Century to World War I in the 1910s. In World War I alone, their losses numbered in the tens of thousands. And wherever they have served, they are regarded as sure footed, sturdy and hard working.
They are Tennessee mules - and they have been highly valued during wartime throughout much of our country's history.
From today through April 12, more than 200,000 people are expected to visit Columbia for the Maury County town's annual Mule Day celebration. While much of the focus will be on the important role mules have played in Tennessee agriculture, their wartime contributions are noteworthy as well.
Thanks to their hardiness and adaptability, mules have played a role in American military conflicts for decades. In the Civil War, for example, a mule-drawn wagon train was credited with resupplying Union troops at the Battle of Gettysburg, possibly preventing the troops from suffering a devastating defeat in one of the conflict's key battles.
Columbia's mules were so prized that the British army purchased many of them for the Boer War and World War I.
As for the stereotype about mules being stubborn, that's open for debate. Some of the animals' defenders say the horse-donkey hybrids just have an innate sense of self-preservation that keeps them from taking undue risks or working past their capacity.
You can learn more about mules, military and civilian, by visiting the "Got Mules?" online exhibit at the Tennessee State Library and Archives. The exhibit documents the history of mules in America dating all the way back to Christopher Columbus. It can be found online at http://www.tn.gov/tsla/exhibits/mules/index.htm
"Columbia's Mule Day is one of Tennessee's great events," Secretary of State Tre Hargett said. "Mules have been a big part of our history, serving important roles in farming, the military and cultural life. I encourage people who want to learn more about mules and the part they have played in our history to check out the State Library and Archives' online exhibit."