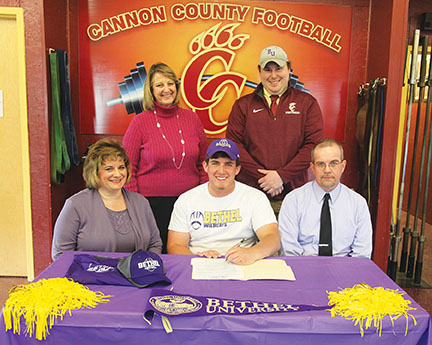 Jeremiah Mooneyham has signed a letter of intent with the Bethel Wildcats. Pictured are his mother Stephanie Mooneyham, Jeremiah, father Tommy Mooneyham, Barbara Parker, director of schools, and TJ Daniel coach.
For the second time in as many years, Cannon County's football program is sending a player on to the next level. Last week, senior lineman Jeremiah Mooneyham, son of Craig and Stephanie Mooneyham, signed a letter of intent to play football for the Bethel Wildcats this fall.
Young Mooneyham, who saw action in both the offensive and defensive lines, is the second former Lion to sign with Bethel. B. J. Daniel is about to finish his first year with the Wildcat program.
"Jeremiah was a big part of our program this past fall," explained Cannon County Coach T. J. Daniel. "We're going to miss him but we're also excited that he's going to further his education through football," he added.
Mooneyham plans on majoring in exercise science, possibly pursuing a career in athletic training.