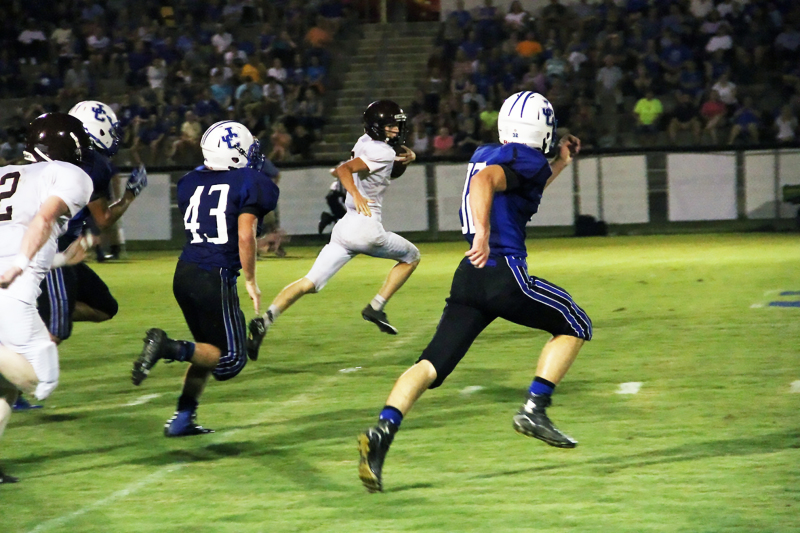 By DAVID HUNTER
By David Hunter
Coming into the Aug. 26 football game at Jackson County, the Lions had a chance to do something, which was last done before any of the current players was born. However, the host Blue Devils dominating defense for the second week in a row prevented the Lions from starting 2-0 for the first time in 18 years as they were tamed 37-6.

Three weeks ago, the Lions defeated Clay County 14-13 in a two quarter preseason jamboree. After two weeks of the regular season, the Blue Devils stone wall defense has held both teams to only six points. Throughout the loss, the Lions could not get anything going on offense after scoring 26 points in the week one win over Community.

"We did not play that good at all, and the boys know it," CCHS head coach T.J. Daniel said. "We got to work on everything, offense, defense and special teams."

The Blue Devils jumped out to a 14-0 lead during the first quarter, in a game which started 30 minutes late, because of the hot weather. The Lions did not get a first down until the second quarter, when senior quarterback Josh Walkup quarterback sneaked on 4th and 1.

With 10:25 left in the first half, his twin brother Josh, who plays tight end and linebacker recovered a muffed punt by JCHS at the JS 37. However, the Blue Devil defense held without any damage.

Senior Lion punter Qwentin McMackins fell on a high snap at the CCHS 10 with 2:01 left in the second quarter. The Blue Devils scored on the very next play to make it 21-0.

However, the CCHS special teams redeemed themselves with: 45 seconds left in the opening half, when McMackins took the fake punt out of the Lions own end zone and raced 104 yards for the only Lions touchdown of the game to make it 21-6 at half.

"We talked to them before the play, and told them we did not want to give up the safety," Daniel said. "If it is a bobbled snap just get out of the end zone, and he got a high snap. He went around the edge and made a big play for us."

The Blue Devils scored 16 unanswered points in the second half to finish the scoring.