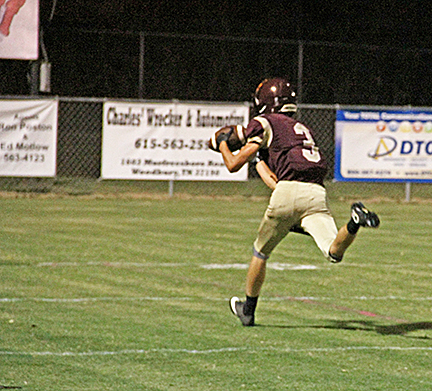 Front photo: Cole Hill (55) dropping the RBS runner for a loss.
By David Hunter
The 2016 football team becomes the first team in seven years to win at least two games in a season with a 34-14 win over Red Boiling Springs Sept. 9 on Aloha night at Fred Schwartz Field.
The 20 point win is the largest margin of victory since Oct. 25, 2009 when CCHS routed Smith County 32-10 in route to the District title and a 6-5 record.
Back then, the 2017 senior class was in fourth grade. They are glad to achieve the goal, but they also admitted they want more success this season. They instituted the 24 hour rule after the win, which they celebrated until its back to work on Sunday getting ready for York next week.
"A win is good either way," Lions head coach T. J. Daniel said. "We got York next week, and that is a big district game we want to get under our belts."
"We just got to come back next week and work even harder," Senior nose tackle and guard Maika Fonoti said. "The next team is going to watch the film like we are and try to figure out how to stop us. We just got to keep pushing hard."
Also, the Lions bounced back from a heartbreaking 13-12 loss to Grundy County on the same field last week.
"It was really good, and more importantly it gets the momentum, and it helps us realize we have the potential to know what we can accomplish as a team," Senior quarterback Josh Walkup said.
"It motivated us to get better and keep grinding," Sophomore defensive back Cort Litchford added.
Josh Walkup got it done in the air and on the ground in the win. He connected with senior wide out Qwentin McMackins on two deep touchdown passes, and ran for one himself.
Senior running back Jayson Coon put the game away in the fourth with a long touchdown run, and senior kicker Jake Walkup added two long distance field goals to end the scoring. Also, the student body wore Hawaiian gear at Friday's night's game.
Now, the Lions are 2-2 and will be traveling to York on Sept. 16 looking for their first road win since Sept. 13, 2013 when they defeated Red Boiling Springs 28-25. CCHS has lost 14 consecutive road games since then, but they can end it this Friday night with the kickoff at 7 p.m.