Jr Lionettes end season with win
Tuesday, May 10, 2016 9:42 am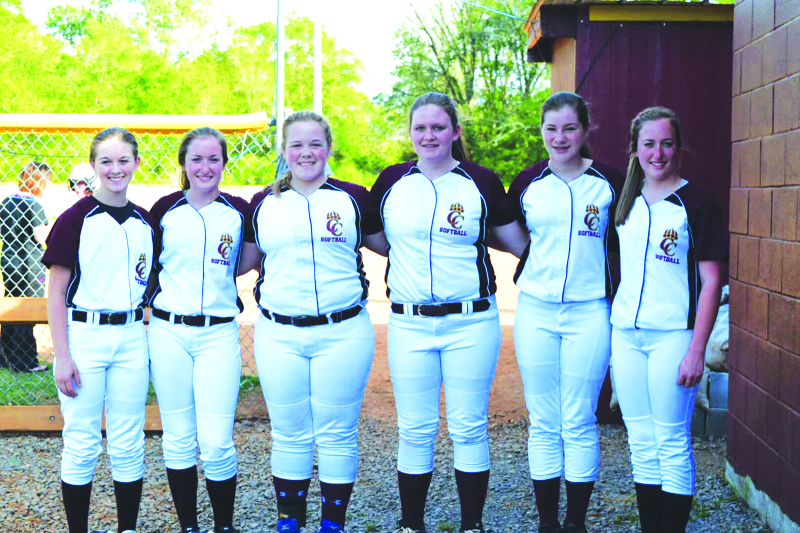 The Junior Lionettes softball team had an impressive 15-3 season including a come from behind win in their final game. From left are Abbie Judkins, Madison Blanton, Kallie Kemp, Abigail Buchanan, Austin Grant and Caroline Blanton
BY DAVID HUNTER
One of the best teams in Cannon County this school year finished up an impressive 2016 last week going 15-3. The Junior Lionette middle school softball team completed the season on April 28 with an unbelievable come from behind walk off 6-5 win over Friendship Christian at home.

"It feels really great and I am glad we won our last game," Junior Lionette eighth grader Caroline Blanton said.

Blanton had the winning hit, which brought home seventh grader and the ace this season Maddie Arnold home to give CCJL the perfect way to end a great year.

Since the Junior Lionettes will not play in the postseason, even though I believe they would be the favorites to win the whole thing. No, I am not being a homer instead I think this team had all of the right things you need to win a championship at this level, especially in softball.

They had a solid ace on mound, a rock solid defense which did not make many mistakes on the field, and an offense with a lot of power and timely hitting. These three things are the exact ingredients a team needs to compete for a title on the diamond.

"Our defense was strong, and we could always come back and hit," Maddie Arnold said. "We could hit in the holes and make people make errors."

Oh, a team needs one more thing to be successful and it is momentum heading into the postseason. The Junior Lionettes finished the year on a six game winning streak, which would have made them the favorites. However, it is what it is, and this team and their supporters should be very proud on how well their season went in 2016.

The other players on the team included fellow eighth-graders, Kallie Kemp, Madison Blanton, Abbie Judkins, Abigail Buchanan and Austin Grant. The other seventh graders included Addison Melton, Kaitlin Duggin, Bradi Mason, Autumn Young, Josie Gannon, Abbi Smith, Briley Cunningham, Macey CiraMella and Hannah-Jo Naylor.

The head coach this season was Marcus Arnold, and after the final game last week they celebrated by dumping a bucket of water on him to thank him for a great season. However, he got really mad, and made the entire team run laps around the softball field, while he dried himself off.

Just kidding, actually he was very proud of Junior Lionettes with all of the success this season.

"It felt good," Arnold said after the shower. "I am very proud of them. We had a great year."