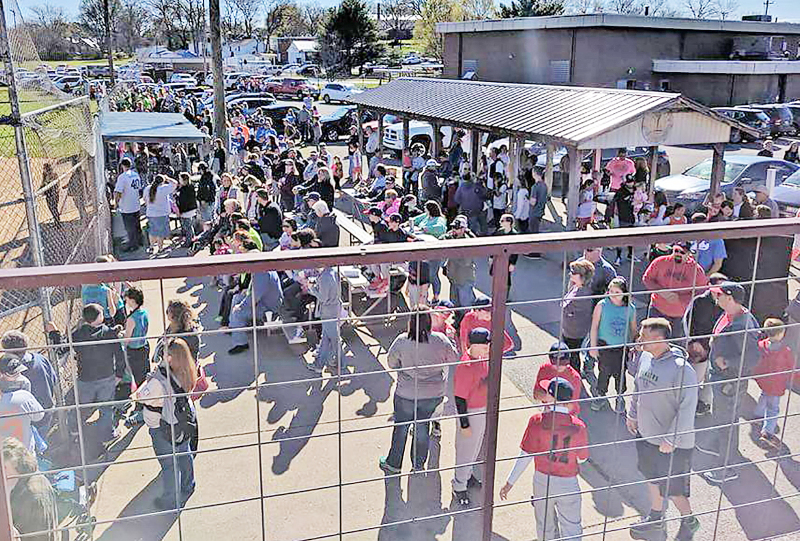 David Hunter
The Cannon Courier
Here are the 2017 Cannon County Dixie Youth Association baseball and softball teams, including the rosters from each team. We would like to thank the CCDYA President Jen Baine for her help this season.
T-Ball
Martin's Excavating Grasshoppers (Head Coach - Brittany Reinitz); Players: Avery Martin, Hallie Parker, Cain Parker, Zane Hylton, Braylen Kell, Jase Hare, Daniel Robinson, Kynndal Vinson, Jackson Bennett, Knox Reinitz, Bowden White.
Ignite M&M Blue Wahoos (Head Coach- Derrick Mullins); Players: Emma Gaither, Bradyn Mullins, Tucker Higgins, Banks Nichols, Tatum Tenpenny, Trenton Thomas, Gaige Bogle, Justin Spry, Evan Thomas, Haven Gahart, Kensleigh Parker.
Preston Plumbing River Cats (Head Coach- Randell Toombs); Players: Loralee Toombs, Brylee Ervin, Remi Carpenter, Kaylee Young, JoLeana Lorance, Cole Kennedy, Paisley Avera, Jase Costa, Skylar Howell, Waylon Francis, J'Khari Farless.
Woodbury Funeral Home Storm Chasers (Head Coach- Stephanie Lovett); Players: Colt Alexander, Braxton Faulkner, Dallas Gater, Tripton Grizzle, Aubree Harrub, Connor Hass, Kara Lovett, Brantley Melton, Bryce Smithson, Baylee Stembridge.
TriGreen Equipment Lake Monsters (Head Coach- Dustin Ferrell); Players: Lola Ferrell, Mackenzie Bush, Case Richardson, Abby Davenport, Madden Haynes, Easton Arms, Camden Duncan, Brentlee Evans, Aviana Garcia, Noah Wetzel, Jordan Winters.
Best One Tire Hot Rods (Head Coach- Allison Fann); Players: Mason Brandon, Michael Fann, Natalie Alexander, Londyn Francis, Andrew Leath, Gage Thomas, Colton Merriman, Jaycee Wimberly, Brenleigh Parker, Declan Amankwah, Whaylen Patterson.
5/6 Coach Pitch
JWS Collision Center Thunder (Head Coach- Lee Taylor); Players: Addison Martin, Levi Vickers, Bentley McCarthy, Avery Moore, Siena Bennett, Peyton Fults, Maya Reagan, Joshua Wimberly, Kinlee Underwood, Haze Gray, Gunner Alford.
Shelbyville Oncology Dragons (Head Coach- Carol Miller); Players: Peyton Wilder, Braxton Miller, Donnovan Sadler, Coleigh Davenport, Oystein Garcia, Dean Russell, Annabelle McPeak, Ellie Chapman, Cody Kennedy, Carson Byrom, Matthew Bartal.
Norton Bonding Rubberducks (Head Coach-Dustin Keller); Players: Jacob Keller, Analyn Brown, Rylie Clark, Colten Smotherman, Jack Reger, Vivienne Reger, Peyton Davenport, Lillie Hunter, Alexander King, Harper Taylor, Lucas Roberts, Keyleigh Crowell.
MTEMC Riverdogs (Head Coach-Ashley Cantrell); Players: Cohen Cantrell, Luke Pelham, Cullen Bryson, Kaydence Light, Korbin Smith, Beavan Amankwah, Shelby Hale, Bryson Gunter, Caroline Neal, T.C. Graham, Caleb Powell.
Scott Equipment Lake Monsters (Head Coach- Megan Cantrell); Players: Hunter Tuck, Neveah Frogge, Lily Sanders, Emily Mooneyham, Kylie Harris, Callie Stone, Zallona Dillard, Andie Jane Grant, Malley Jefsen, Matthew Mooneyham, Zoe Chatwood, Andrew Cook.
Rutherford County Monuments Grasshoppers (Head Coach- Jamie Hackney); Players: Abigail Bartal, Karson Holt, Addilyn Smith, Braylon Chockley, Zoie Mingle, Niome Muse, Jarren Hackney, Brooklyn Jernigan, Gracie Nichols, Sawyer Tucker, Cooper Henderson.
First National Bank Ironbirds (Head Coach- Jeff Bane); Players: Silas Bane, Walter Boon, Daylen Young, Paislee Smith, Bryson Davis, Bree Pope, Dani Young, Aubree Lorance, Adelaide Davidoff, Kyleigh Prine, Draken Dehay.
7/8 Coach Pitch
MTMEC Grasshoppers (Head Coach-Jeff Gannon); Players: Alex Gannon, Christopher Frogge, Tuff Alford, Aiden Martin, Brandyn Murphy, Preston Lafever, Brody Franklin, Austin Martin, Kale Sellars, Cade Smith.
Sassy Sisters Bees (Head Coach- Trent O'Neal); Players: Lane Southworth, Cayden Onate, Josh Powell, Gavin Bogle, Brayden Smithwon, Dakota Wimberly, Jon Bryson, Sawyer Barrett, Garyin Gibbs, Jaxon Miles.
HP Construction Storm (Head Coach- David Lovett); Players: Weston Lovett, CJ Seivers, Dustin McVay, Mason Thomason, Sam Wimberly, Ayden Dollar, Preston Hamby, Noah Grant, Justin McVay, Jake Mooneyham, Waylon Crawford.
State Farm Insurance -Mitch Wilson Rockhounds (Head Coach-Josh Phillips); Players: Lukas Phillips, Tucker Witty, Ashton Witty, Cody Prater, Brody McPeak, Miles Alexander, Jackson Phillips, Carson Henderson, Zeke Walkup, Charlie Bartlett.
Chevy of Murfreesboro Raptors (Head Coach- David Brown); Players: Trenton Brown, Connor House, Kaide Haines, Lasten Nichols, Colton Gater, Ben McGee, Grayson Turner, Jolen Gurdak, Jaxon Smith, Carter Burton.
9/12 Kid Pitch
Scott Equipment Braves (Head Coach- Anthony Leach); Players: Jefferson Campbell, Anthony Garcia, Gaven Franks, Joshua Jernigan, Corbin Murry, Spencer Chatwood, Jon Hare, Jessie Jernigan, Allen Leach, Gunter Pitts.
Ethan Campbell-Edward Jones Financial Advisor White Sox (Head Coach- Jeremy Morris); Players: Christian Eubanks, Denver Jones, Kolton Hedrick, Landyn Murphy, Bode Davenport, Cameron Roberson, Xavier Matthewson, Eli Morris, Luke Shoebottom, Ben Brown.
FirstBank Rockies (Head Coach- Jeff Bane); Players: Matt Bane, Garrett Crawford, Nick Foster, Nick Lefever, Aidan Pope, Dylan Gunter, Kaden Thomas, Jake Foster, Gary Whitworth, Chase Kelly.
Dearry's Painting Cardinals (Head Coach- Dustin Keller); Players: Dustin Keller, Owen Prine, Jackson Farrar, Ian Smith, Branson Smithson, Jack Grant, Carson Farrar, Alek Hargreaves, Bobo Grandstaff, Carter Cawthorn.
Sonic Cubs (Head Coach- Matthew Smith); Players: Landon Smith, Kyle Judkins, Dan Wimberly, Theo Winters, Aiden Smith, Waylon Southworth, Brett Smithson, Foster Kemp, Zae Odom, Joey Maier.
9U Softball Coach Pitch
Patco Rocky Top Smokies (Head Coach- Justin Phillips); Players: Aubrey Phillips, Chloe Adcock, Braylynn Taylor, Ansley Hunter, Alexis Davenport, Autum Winfrey, Lilly Allen, Jaylynn Taylor, Bella Mason, Izabella Allmon, Zoey Bogle.
Parley's Market Honey Badgers (Head Coach- Keith Holt); Players: Annsley Holt, Ava Roberts, Kendra Murphy, Belle Sanders, Layla Barrett, Mylee Schwartz, Alyssa Calamia, Ava Martin, Chasity Barrett.
Parkers Personal Defense Crush (Head Coach- Jamie Hackney); Players: Jaysie Hackney, August Morris, Kiley Byrom, Leah Lafever, Hailey Young, Brooklyn Parker, Madison Ashford, Allison Francis, Kylie Bogle, Baylee Sissom.
Leath Renovations Dirt Diamonds (Head Coach- Chad Parker); Players: Isabella Prater, Tessa Vantrease, Madison Foster, Amber Heisey, Madi Leath, Jada Blount, Macie Foster, Ziya Dillard, Lindsay Powers, Braeleigh Parker.
14U Softball Kid Pitch
Waste Services Lil Dougies (Head Coach- Jeff Todd); Players: Devin Grant, Anna Williams, Addy Todd, Norah Walkup, Sierra Ashford, Haylee Williams, Britian Brown, Taylor Weeden, Lori Pittard.
Watson Metals Dirt Diamonds (Head Coach- Chad Parker); Players: Aubrianna Parker, Cynthia Davenport, Katie Beth Fann, Georgia Wells, Britany Davis, Tabitha Goodwin, Ashlan Reed, Kendall Hedrick, Natalie Heisy, Mykala Barrett, Kristin Knox.
Auto Express Towing Diamond Crushers (Head Coach- Dustin Keller); Players: Chloe Francis, Kathrin Gracia, Tracey Morrison, Shelby Duggin, Kierra Linderman, Morgan Keller, Abbi Morrison, Danielle Lafaver, Dixie Garrison, Kylie Linderman.