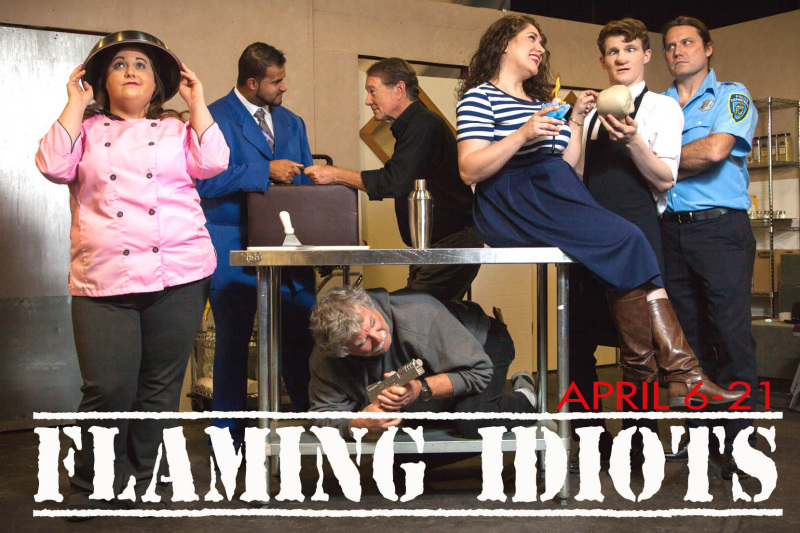 The Arts Center of Cannon County presents
Flaming Idiots
written by Tom Rooney
April 6, 7, 13, 14, 20 & 21 at 7:30 PM
April 8 & 15 at 2:00PM
This show is rated PG

Carl and Phil decide that the ladder to success at the post office is missing a few rungs. They know that big money is waiting for people with entrepreneurial spirit and sound business judgment. They have lots of the spirit but little of the judgment and their new gourmet health food restaurant flounders. Zippy's, a popular cross town spot, has been crowded ever since Cy Manamalancia, a notorious mobster, was shot there and that was over twenty years ago. What if someone could get murdered in their restaurant? Flaming Idiots is a contemporary farce which takes place entirely in the restaurant kitchen and requires five doors for slamming.

Flaming Idiots is sponsored by Community Wellness Center and directed by Matthew Henry Hayes. This production features Charlie Winton, Brian Best, Rachael Parker, Bobby Bland, Nathan Lamb, Allison Hall, James Bessant, and David Tombs.
Tickets are $15 with discounts available for students and seniors and can be purchased by calling (615) 563-2787 Tuesday through Saturday 10AM-4PM or online at artscenterofcc.com and (subject to availability) at the door one hour prior to show time.
The Arts Center is located on 1424 John Bragg Highway, just west of the town of Woodbury, approximately 20 minutes from Murfreesboro, Manchester, and McMinnville and one hour southeast of Nashville. Office hours are 10:00a.m. to 4:00p.m., Tuesday through Saturday. For more information call 615-563-(ARTS) 2787. Check out our web site at www.artscenterofcc.com.