Fall sports season approaching end
Tuesday, September 29, 2015 2:14 pm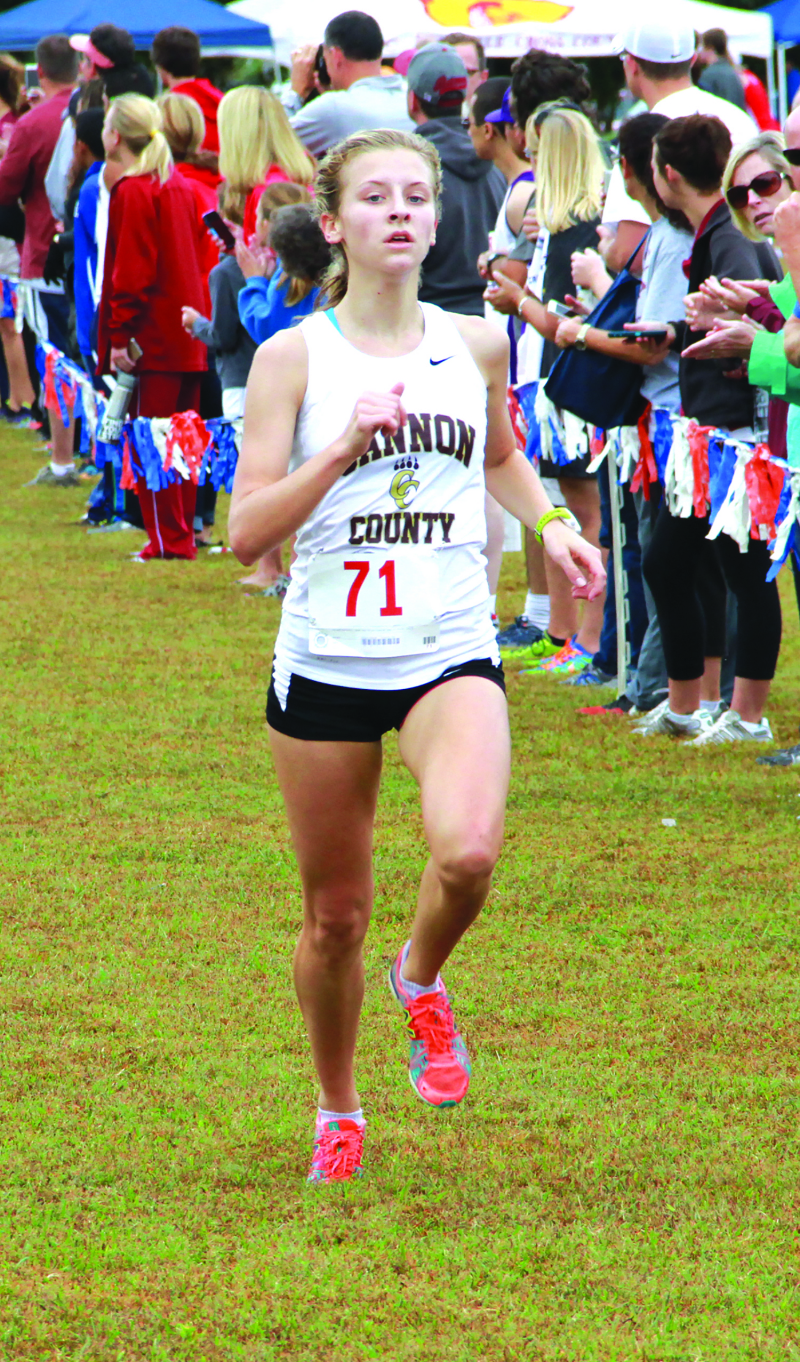 Hannah Whited
DAVID HUNTER
Cannon Courier
The Cannon County fall sports season is fast coming to a conclusion with several teams ending their regular season and preparing for the upcoming playoffs. Also, a couple of ceremonies honoring those athletes who will be moving on to the next step in their life will take place this week.

CCHS Cross County.
After a successful meet last week, the Lions and Lionettes continued their success with another meet win at Arrowhead Ranch in Normandy on Sept. 22. Both teams won the overall, and each had four runners place in the top 10 on a very tough course.
For the Lionettes, Hannah Whited returned to action after missing last week because of an illness with a runner-up finish in a time of 21:39; with Isabella Russo (3rd-23:15), Elva Magana (5th-24:02) and Alayna Reed (7th-24:16) also completing the race in the Top 10.
"It was pretty tough, because it was pretty hilly and all grass," Hannah Whited said. "Both the boys and girls did really well on the course, and there were a lot of PRs. I think we did really good considering the hills".
The Lions, led by Devin Gilpatrick (4th-18:44), Austin Duggin (5th-18:50), Corey Seymour (7th-19:08), and Justin Whited (8th-19:14) captured the overall meet win.
"The hills give us an advantage, and we work really hard on those," Justin Whited said. "The hills give our team a great advantage of getting up in the Top 10."
The second meet of the week took place at Sharp Springs in Smyrna on Sept. 26. The meet was so big it was broken up into two divisions, Gold and Silver, with CCHS completing in the Sliver race.
Hannah Whited finished runner-up again with a time of 20:30.34 in the girls Sliver race, while Austin Duggin (11th-18:12.20) and Devin Gilpatrick (12th-18:14.09) led the boys in the same division.

CCHS Golf
The Lions golf team finished the 2015 regular season with a 183 to 205 win against Monterey on Sept. 21 at Smithville Golf Club. Briar Jakes shot a low mark of 40 during the nine-hole event.
Three days later, CCHS fell at Macon County (145 to 179) with Hunter Vickers shooting a low score of 41.
The Lions will compete in the District Tournament at Fall Creek Falls on Sept. 30.
CCHS Volleyball
The Lionettes made the short trip to Murfreesboro on Sept. 22 to face Central Magnet as they hung tough almost winning the first set, but the Lady Tigers took control and won the match in a three-game sweep.
CCHS finished up the week in a tournament at Warren County on Sept. 26 as they played five best of three matches against Warren County, Coffee County, Grundy County and Tullahoma.
The Lionettes finish up the regular season on senior night on Sept. 29 against Upperman.
Coon, Katie Hoskins, Haylee Mooneyham and Emily Sissom will be honored during the match.

CCHS Girls Soccer
The Lionettes hit the road last week with a match at Goodpasture and at Middle Tennessee Christain School. CCHS fell in both matches 2-1 on Sept. 22 and 7-2 on Sept. 24 with Livia Walker scoring all three goals in the two losses.
Head coach Dorinda Walker has been pleased with the play of Allison Howard, who has stepped in for the injured Bailey Sims, helping to control the defensive back line.
This week, the Lionettes have three home matches on Fred Schwartz Field, including Senior Night on Oct. 1 against Huntland as Walker, Sims and Baylee Nemeth will be honored before the match. The other two home matches are Sept. 28 against Marshall County and Sept. 29 against Murfreesboro Central Magnet.
CCHS Junior Lions Football
The two-game winning streak came to an end with a 33-7 loss at home against Watertown on Sept. 24. Wade Love scored the only touchdown for the Lions.
Before the game, 12 players and five cheerleaders were honored during Eighth Grade Night. Those 8th grade athletes include: Wade Love, Remington James, Jordan Bean, Brent Scott, Nathaniel Campbell, Iain Harwood, Gabriel Smith, Parker Bush, Logan Bauereiss, Jacob Brock, Lucas Clark and Brady Cunningham. The cheerleaders included Autumn Bullock, Etta Gaines, Ashley Page, Bailey Bond and Amy Poppele.
The Junior Lions will end the season at Lebanon on Oct. 1.

Cannon County Youth Football
All three divisions (Pee-Wee, Junior and Senior) fell to Clay County on Sept. 26 at Fred Schwartz Field.
The Pee-Wee Lions were led with two touchdowns from Landon Franklin in a 36-12 loss, while the Junior Lions fell 34-0, and the Senior Lions also lost 42-0.
The youth football team will be back at home on Oct. 3 against Trousdale.