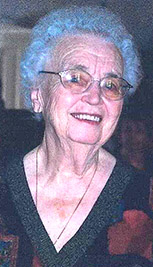 Elizabeth McElroy Barrett, age 101, passed away April 15, 2015. She was a native and life-long resident of Rutherford County living in the Milton-Porterfield community until moving to Sunnington Assisted Living where she resided for the last five years. Funeral services will be Saturday at 1:00 PM at Woodfin Memorial Chapel with Rev. Lawrence Clark officiating. Burial will be in Riverside Cemetery in Woodbury. Visitation will be from 11:00 AM Saturday until service time at Woodfin Memorial Chapel.
Mrs. Barrett was preceded in death by her parents Ollie Elrod McElroy and John Rosser McElroy; sisters, Lois and Rebekkah; and her husband Howard Stokley Barrett who died in 1981. She is survived by her daughters, Mary Ann Richardson and husband Allen, and Mina Parker and husband Dan; grandchildren, Dayna Henderson, Tracey Hackney, Joseph Allen "Joey" Richardson; great grandchildren, Amy Henderson and Danielle Henderson; great great granddaughter, Amelia; and other loving family members.
Mrs. Barrett was a long time member of Stones River Presbyterian Church and was presently a member of Cripple Creek Presbyerian Church. She was a 1931 graduate of Kittrell High School, a founding member of the Home Demonstration Club which is now the Family and Community Education Club, and a caregiver and cafeteria worker at McFadden School. She was a loving mother, mother-in-law, and grandmother and will be remembered for her cooking expertise.
Family and friends will serve as pallbearers. Memorials may be made to Cripple Creek Presbyterian Church, c/o Matt Bush, 1175 Cripple Creek Rd, Readyville, TN 37149.
Online condolences may be made at www.woodfinchapel.com.