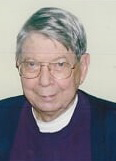 Dr. Herman H. "Pink" Pinkerton, formerly of Abingdon, VA, passed away on December 5, 2015 at Springmoor Life Care Retirement Community in Raleigh, NC. He was born October 28, 1928 in Cookeville, TN to Herman Pinkerton, Sr. and Marguerite Fowler Pinkerton.
Dr. Pinkerton received his BA in chemistry from Tennessee Tech University and his medical degree from Johns Hopkins School of Medicine. He practiced medicine as a pediatrician and pediatric allergist in Abingdon, VA for 38 years.
Dr. Pinkerton's accomplishments were many. He was past president of both the Washington County Medical Society and the Southeastern Allergy Association, Assistant Clinical Professor of Pediatrics at the Medical College of Virginia, former CEO of Johnston Memorial Clinic, and former chief of staff at Johnston Memorial Hospital. He also served on committees of the Virginia Medical Society and the American Academy of Allergy, Asthma and Immunology. In addition to his professional service, he was a committed member of Sinking Spring Presbyterian Church in Abingdon. Most importantly, he was a loving, caring husband, father, and grandfather.
Dr. Pinkerton was preceded in death by his wife of 63 years, Jane Pinkerton. He is survived by his daughters, Ellen Kruszewski (Tom), of Plantation, FL; Susan Ballagh (John), of Leesburg, VA; Sally Gates (Jim), of Raleigh, NC; Margie Fleenor (Don), of Durham, NC; 12 grandchildren; and 11 great grandchildren.
The family would like to express its gratitude to the staff of Springmoor Life Care Retirement Community for the loving care it provided Pink. In lieu of flowers, donations may be made in memory of Dr. Pinkerton to the pediatric ward of Johnston Memorial Hospital, Abingdon, VA; Sinking Spring Presbyterian Church, Abingdon, VA; or the Dr. Herman Pinkerton Chemistry Scholarship at Tennessee Tech University, Cookeville, TN.
There will be a graveside service for the family at Riverside Cemetery in Woodbury, TN on December 19, 2015. A memorial service will be held at a later date. Smith Funeral Home is assisting with local arrangements. Share memories and condolences with the family at www.smithfuneralhomewoodbury.net Smith Funeral Home (615)563-5337