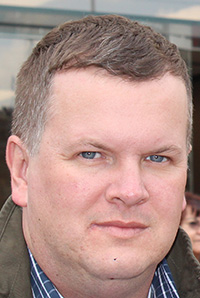 Mr. David Bruce Mullins, 47, of Murfreesboro passed away on February 21, 2019. He was born on April 24, 1971 in Murfreesboro, TN. He was preceded in death by his father, David Wilson Mullins.
He is survived by his mother, Judy (Mike) Wilhelm of Murfreesboro; brothers, Rick (Francine) Mullins and Wayne Mullins both of Bradyville; nephews, Tony Halliburton of Murfreesboro, Phillip (Emily) Mullins, and Jared Mullins of Bradyville; great niece and nephews, Summur Halliburton, Landyn and Grayson Mullins, aunts, Dorothy Mullins Foster and Angie Jeraldine Mullins Allen.
He attended Woodland Elementary School and graduated from Riverdale High School. He went on to earn a bachelor's and master's degree at MTSU in English and Communications. He worked for Hughes Aeronautics and Walt Disney over the years. He loved listening to music and had a passion for writing fiction short stories for fun.
Services are not planned at this time. Bruce had also struggled with mental illness for many years and hope friends and relatives will understand how important it is to support mental health to understand Bipolar Disorder. Share memories and condolences with the family at www.smithfuneralhomewoodbury.net Smith Funeral Home, 303 Murfreesboro Rd. Woodbury, TN 37190, 615-563-5337