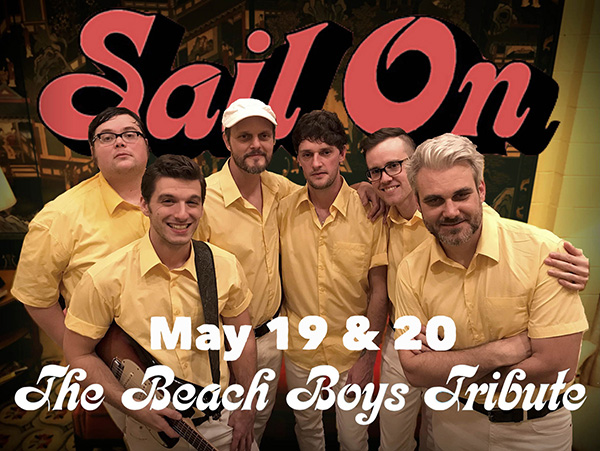 The Arts Center of Cannon County presents
Sail On
A Tribute to The Beach Boys
Saturday, May 19 at 7:30 & Sunday, May 20 at 2:00PM
For an authentic Beach Boys Concert experience, Sail On, is as close as you are going to get!
For the first time ever on The Arts Center stage, this tribute to The Beach Boys will have you ready for summer! Come hear all of your favorite hits and harmonies LIVE on stage.
Do You Remember? Surfin', Surfin Safari, Catch a Wave, Surfer Girl, Shut Down, Little Deuce Coupe, Little Honda, In My Room, I Get Around, Don't Worry Baby, Wendy, Do You Wanna Dance?, Dance Dance Dance, California Girls, Wouldn't It Be Nice, Sloop John B., God Only Knows, Heroes and Villains, Wild Honey, Do it Again, I Can Hear Music, Forever, Sail On Sailor, Good Vibrations, Help Me Rhonda, Barbara Ann, Surfin' USA, Fun, Fun, Fun!
"The band was started when Matt Thompson spoke with myself about starting a Beach Boys Tribute," Jason Brewer, the group's leader, said. "I thought it was a great idea to do an accurate and exciting version of a Beach Boys tribute because there did not seem to be the attention to detail being taken seriously with most Beach Boys tributes. Our band is comprised of guys who are very passionate about playing the music of Brian Wilson and The Beach Boys properly.
"When you see a Sail On show you will get a youthful and accurate portrayal of the sound of The Beach Boys records and live performances from the 60s and 70s eras of their career," Brewer added.
Tickets are $20 and may be purchased by calling the box office at 615-563-2787 Tuesday through Saturday from 10 a.m. to 4 p.m. or online at www.artscenterofcc.com.
If You Go:
Who: Sail On, A Tribute to The Beach Boys
Where: The Arts Center of Cannon County, 1424 John Bragg Highway, Woodbury, TN
When: Saturday May 19 at 7:30PM and Sunday 20th at 2:00PM
Tickets: $20
Contact: (615) 563-2787