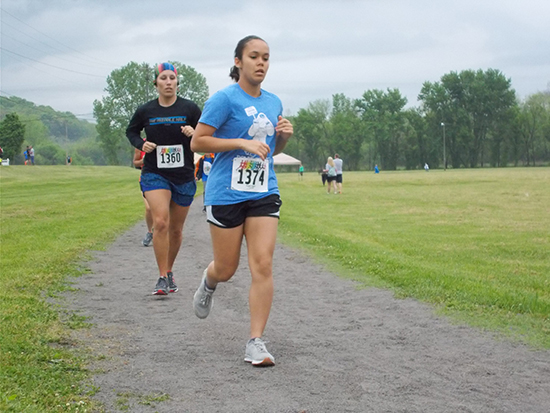 Young runners dominated the race. Rain and cool temperatures did not discourage them at 2nd annual Cannon Runs for Children 5K Run/Walk on Saturday, May 5.

Over sixty runners signed up to participate in the event. Dr. Trea Wessell from Cannon County Chiropractic gave the opening speech. Brian Elrod sounded the starting gun and runners took to the course.

The Overall Male Winners were Aaron Gottlied (age 13) with a time of 19:10, Brad Phillips (age 16) with a time of 19:26, and Duncan Cook (age 17) with a time of 20:49. The Overall Female Winners were Keilee Campbell (age 13) with a time of 23:24, Kiley Hughes (age 13) with a time of 24:37, and Emily Morris (age 13) with a time of 24:59.

The Child Advocacy Center works as a multidisciplinary team with the Warren County Department of Children's Services, Woodbury Police Department, Cannon County Sheriff's Department, and the District Attorney's Office to investigate and prosecute child abuse cases and help children and their families heal from the trauma. The Department of Children's Services protects children. Law enforcement investigates the crime and arrests offenders. The District Attorney's Office aggressively prosecutes perpetrators. While the Cannon County Child Advocacy Center helps children and families heal from the trauma of the abuse.

Over $6,800 was raised. All proceeds from the event will be used to provide services to Cannon County child abuse victims and their families.

Cannon Runs would not be possible without incredible community support. Presenting sponsors were Cannon County Chiropractic and Moonlite Drive In. Silver sponsors included Experience Community Church Cannon, Law Offices of Galligan and Newman, and Preston Brothers Construction. Bronze sponsors were DTC Communications, Katina George for Circuit Court Clerk, Middle Tennessee Natural Gas Project Hometown Help, Piggly Wiggly, Tri-Star Title Co. LLC, and Woodbury Drug Center LLC. Supporters included Arts Center of Cannon County, Bernard and Nancy Coomes, Chad Davis, Shannon and Daisy Gannon, Gregory Goff, Catherine Player, Margot Riser, Tennessee Renaissance Festival, UT Extension Office of Cannon County, and Woodbury Funeral Home.

"The Child Advocacy Center wants to say a special THANK YOU to the amazing members of the Cannon Runs Committee: Jo Bonner, Cassell Galligan-Davis, Brian Elrod, Kevin Halpern, Catherine Player, Carolyn Motley, Angie Sexton, Chief Lowell Womack, and Jessica Wauchek," said director Sharon De Boer. "The committee worked their hearts out to make this event a huge success. We are looking forward to next year's run!"

Please contact Cassell Galligan-Davis at the Cannon County Child Advocacy Center at (615) 563-9915 or cdavis@cannoncac.org if you want to serve on the 2019 Cannon Runs Committee. Runner's times and event photos are available on the website at cannoncac.org.