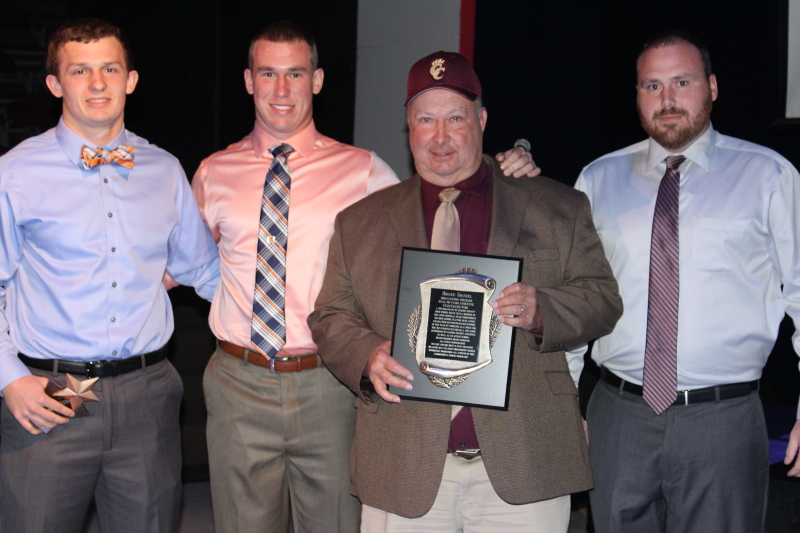 DAVID HUNTER
Courier Sports Writer
The Daniel family has done more for the Cannon County athletic and academic programs in every way possible. You cannot go to any event in this area without seeing their fingerprints on it, especially through their Huff & Puff Trucking Company. The man of the house, Bruce Daniel sees life as one big pep rally, and his contributions has earned him a place in the 2016 Cannon Courier Hall of Fame.

"It is the most honorable award I had ever received," An emotional Daniel expressed after being named to it back in May. "I was honored to be inducted, but there are people more deserving than me."

Daniel was not a part of the undefeated 1974 football team, because he graduated from Woodbury High, the previous year. However, his senior leadership in 1973 help set the bar for that legendary team one year later. During his senior year, the Lions finished 7-3, including a memorable win over Jackson County on September 14, 1973.

Daniel remembers the game like it happened yesterday, especially facing a team who was the overwhelming favorite since they had a several players who would later sign college scholarships. The week before the game, he dreamed about facing their top lineman as Daniel played offensive and nose guard during that season.

"I remember the big guy from Jackson County, because I dreamed about him all week before we played them," Daniel said of his recollections of the impressive upset. "We ate him up. The dream was he was so bad, he played without a helmet."

During the historic win, Daniel and Ray Hall took care of him.

A year later, the Lions went 10-0, and even though his high school playing career was over. Daniel still played a key role in preparing the 1974 team during the season as the head coach asked him to scout the upcoming opponent. His reports must have worked since those Lions went undefeated.

"We was a part of it, but we did not know what we were doing or looking for," Daniel said.

In college, Daniel met his wife, Melodie, who he calls "the backbone" of the family. More about them later. However, he really made his mark in 1983, when he created Huff & Puff Trucking, which started out just shipping peppers to Macon, Georgia. In the meantime, Daniel received some great advice on where he could grow the company to this massive part of Cannon County.

Today, the deliveries made by Huff & Puff reaches all over North America and beyond. When you walk inside the headquarters, there are hundreds of photos taken from all of the major sports and nature landmarks where it has made special trips. However, his love remains in Cannon County.

Anytime there is a big event in Cannon County, Daniel's family and employees are all over it. For example, he tells the story on how the employees wanted a big massive American flag hanging from the ceiling at CCHS basketball games during the national anthem, or putting a trailer with covered seats at the football stadium, so fans do not have to sit in the rain or other bad weather conditions.

"All of the people that helped me and push it forward are the ones we taken into it," Daniel said. "They are the ones who need to take the bow. This crew right here needs to take the bow not me."

His biggest thrill today is seeing his three sons, T.J., A.J. and B.J. play a key role on the Lions football team. All three were Lions recently, including A.J. and B.J. as they played for the current head coach T.J. Both of them have moved on to UT-Martin, while T.J. is getting ready to lead the Lions as they prepare for the upcoming football season.

"We have been luckily with that, especially with T.J. coaching his brothers," Daniel said. "The bond between those boys and us was greater than the divide."

The main goal, which all of the Daniel family both domestically and the employees wants to accomplish for Cannon County is to be the best in everything they do.

"There is a part of building and supporting something bigger than life, and seeing all of the people involved," Daniel said. "Being motivated and feeding off those kids and giving back to them. It just grows. The euphoria you feed off those kids, and those moments money cannot buy."