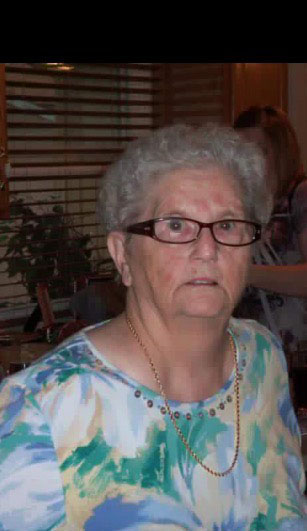 Annie Myrtle "Myrt" Campbell, age 90, passed away at 3:36 am Sunday, August 28, 2016, at Wyngate Senior Living Community - Lima.
Myrt was born September 21, 1925 in Nashville, TN, to the late Thomas and Minnie (Dye) Sinor. On June 22, 1946 she married William Taft Campbell who preceded her in death on November 7, 1997.
Myrt was a life-time member of the VFW Post #1275 Auxiliary and American Legion Post #96. She enjoyed cooking and gardening.
Myrt was blessed with five daughters, Taffy C. (Tom Makley) Campbell of Spencerville, Cathy A. (Brad) Stuber of Russells Point, M. Lucy (Terry) Sullivan of Lima, Jo E. (Manny) Cabrera of Lima and Geri S. (Kevin) Mangas of Lima; nine grandchildren, Caryn (Troy) Strayer, Angel (Brian) Langhals, Mike (Breanna) Campbell, Mando Cabrera, Buddy (Stacey) Jolliff, Jonah Cabrera,Taft (Dayna) Mangas, Christine (Brett) Smith and Terry Neil Sullivan who preceded her in death and eleven great-grandchildren.
Other survivors include, sister, Christine Wrightsman of Delphos and nephew, Johnny Alexander of Murfreesboro, TN
Graveside services will begin 1:00 pm Wednesday, August 31, 2016, at Memorial Park Cemetery. Tim Hefner will officiate the service.
Friends may call from 10:30 AM - 12:30 PM Wednesday, August 31, at CHILES - LAMAN FUNERAL AND CREMATION SERVICES, EASTSIDE CHAPEL.
Memorial contributions may be made to Disabled American Veterans, PO Box 14301, Cincinnati, Ohio 45250-0301.
Condolences may be expressed at chiles-lamanfh.com