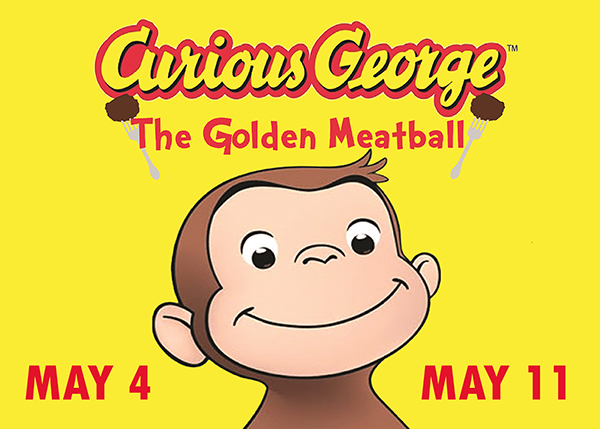 The Arts Center of Cannon County presents Curious George: The Golden Meatball May 4 & 11 at 2:00PM.
Join Curious George, the inquisitive, lovable monkey-star of books, movies and the award-winning PBS television show in a brand new musical. Curious George: The Golden Meatball is a loveable adventure, specifically designed for young audiences, that is sure to leave them singing and swinging down the aisles.
All You-Can-Eat Meatball Day came just once a year. George had been waiting all month for that day, a day almost bigger than his birthday! On Meatball Day, George helped his friend, Chef Pisghetti, cook some delicious meatballs and serve them to the hungry crowd. But this year, the crowd had vanished! Something was keeping people away... something pretty big. And that something was Phinneas T. Lightspeed and his speedy Meatballs-o-Matic machine.
In despair, Chef Pisghetti vows to cook no more. Determined to help his friend, George goes on a mission to enter the Chef's meatballs in the world-famous Golden Meatball Contest in Rome. With every swing and flip, George takes the audience through a fun-filled adventure, in which he learns more about Rome... and meatballs... and the secret ingredient to cooking!
Curious George is sponsored by Wild About Smiles Pediatric Dentistry. Tickets are $10 and may be purchased online or by calling the box office Tuesday through Saturday at 615-563-2787.
The Arts Center is located on 1424 John Bragg Highway, just west of the town of Woodbury, approximately 20 minutes from Murfreesboro, Manchester, and McMinnville and one hour southeast of Nashville. Office hours are 10:00a.m. to 4:00p.m., Tuesday through Saturday. For tickets or more information call 615-563-(ARTS) 2787. Check out our web site at www.artscenterofcc.com.
If You Go:
What: Curious George
Where: The Arts Center of Cannon County
When: May 4 & 11
Tickets: $10
Contact: (615) 563-2787 or online at artscenterofcc.com