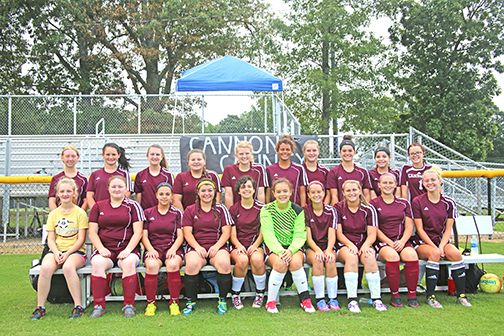 Cannon County Soccer Seniors are, from left, Leeann Scott, Vanessa Contreras, Jesse Hughes, Kaylee Nemeth, Raquel Novoa Tori Jones, Joie McCrary, Kallie McCrary and Alli Howard.
Girls Soccer:
Lionettes Head Coach Dorinda Walker returns at the helm of the program. However, it is a fresh start as one of the best soccer player in recent school history, her daughter Livia, has moved to college. At the same time, CCHS has a deep roster of seniors with nine along with a group of underclassmen ready to make a statement this season.
"We have some talent all the way down to the freshman level," Walker said. "I think we have some more speed and endurance."
Three of the seniors, which the Lionettes will rely on this season, include goalkeeper Raquel Novoa, midfielder Kallie McCrary and Alli Howard.
"The team is stacked with nine seniors, and I think that is an advantage," Walker said. "We have a lot of leadership. They have the ability to lead on the field."
The Lionettes open the regular season Aug. 23 at Marshall County.